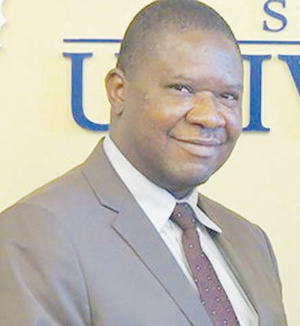 PROFESSOR EMMANUEL OSIKHUEMEH ALUYOR
In February 2016, when he was  appointed as pioneer Vice Chancellor of Edo University,Iyambo (EUI), there was just one question on the lips of stakeholders: 'Can he lay the foundation required for a world class university?' Today, the professor of chemical engineering has not only performed beyond expectations, Emmanuel OsikhuemehAluyor has also proved that he stands for nothing but excellence.
The university, established with a vision to move manpower development in the direction of entrepreneurial skills and to be a first class institution in research, knowledge, character and service to humanity, was established in March, 2016. Two years after, EUI has seen the academic programmes, cutting across engineering, medical sciences, law, arts, social and management sciences, and the core sciences, being fully approved by the National Universities Commission (NUC) under the leadership ofAluyor. The university is also ranked the third best university in Nigeria by the NUC Open Educational Resources (OER).
The VC attendedKirikasama Primary School, Maiduguri where he finished in 1980 and proceeded to the Government College, Maiduguri but later moved to Our Lady of Fatima College, Auchi in 1983 where he finished his secondary education in 1985. He enrolled for his first degree in chemical engineering at University of Benin in 1985 and finished in 1990. He obtained his master's degree in 1993 also from UNIBEN and PhD in 2008.
Aluyor started his working career as Lecturer II at UNIBEN in 1994 and became a professor in October 2010. He is a recipient of several awards for excellence and has attended several workshops and conferences within and outside Nigeria.
Speaking on how EUI emerged the third best university in Nigeria in the OER ranking, the VC said, "It is a development we are very proud of; we worked hard and Edo State government gave us enormous support by helping us to put in place world class infrastructure. We complemented the support by raising a wonderful management team and a wonderful Council for the university. And as the management team, we tried to reciprocate this confidence that the Edo State government has reposed in us by recruiting quality academic and non-academic staff. Our academic staff compare favourably with the one you can find in any world class university."
He went on: "We have taken thepains to ensure that when we recruit any staff, it is the type that will make our university proud. Open Educational Resources ranking is done globally for universities. The fact that the NUC has done it will encourage Nigerian universities to improve on their presence on the web, and improve on their delivery of education to the populace. Many people may be surprised that Edo University, just in two years, has been ranked the third best universityin Nigeria. But if you visit our website and access the quality of the materials there, you won't be surprised. So we are happy that in two years, we are already rubbing shoulders with universities that have been around for decades".