By Onozure Dania
LAGOS—JUSTICE Chukwujekwu Aneke of a Federal High Court, Lagos, yesterday, withdrew from further hearing in suit involving two factions of the Peoples Democratic Party, PDP, in Ogun State.
The suit by Chief Ajibola Oluyede, has Messrs Segun Seriki, Tuke Omotara, Nosiru Isiaka Giwa, Remix Bakare, Abiodun Sanyaolu, Kola Soriola and Oyede Elijah, as plaintiffs.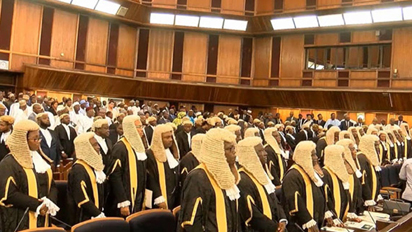 Defendants are: Independent National Electoral Commission, INEC, the PDP, Prince Uche Secondus, the PDP national chairman, Senator Ibrahim Tsauri, National Secretary of the party, Elder Yemi Akinwonmi, Sikirulai Ogundele, Bode Bankole, Waliu Oladipupo and Tunde Alekuwodo.
The plaintiffs in the suit, want the court to grant an injunction for the fifth defendant, Akinwonmi be replaced with the first plaintiff, as the party's National Secretary.
They also asked the court order the national body of the party to only recognised Chief Bayo led faction of the party as the authentic exco of the party in Ogun State.
But the defendants in their preliminary objection filed by their lawyers who include, Emeka Etiaba, SAN, Emeka Okpoko, SAN, Edward Ayo-Adegbesan and Kayode  Akinsola, urged the court to dismis the plaintiffs' suit in its entity for been incompetent and abuse of court processes.
Lagos Open Tennis: Draper dethrones Johnby as men's singles champion
In urging the court to dismiss the suit, the defendants said the plaintiffs failed to comply with the Provision contained in Section 60 of their party's constitution.
However, at the hearing of the matter, yesterday, after Justice Aneke had ruled in favour of the plaintiffs to hear the matter, lawyers to the defendants, told him to withdraw himself from the suit, haven ruled on the preliminary objection filed against the suit which has not been moved.
Marilyn Ogar, ex-DSS PRO loses case
In his response, lawyer to the plaintiffs, Oluyede, urged the judge to discountenance the withdrawal of the judge from the matter as canvassed by the defendants' lawyers.
Justice Aneke while withdrawing from the matter ruled: "I have noticed the defendants' attitude on this matter since first day and the attitudes were appalling, the interest of the court is to be even handed but since the defendants have shown discomfort about my proceedings to the matter, I, hereby, rescue myself. The case file shall be remitted to the CJ for reassignment."