By Dele Sobowale
"You burn the house to roast the pig. It was the only way mankind always roasted pigs."
Saul Bellow. VANGUARD BOOK OG QUOTATIONS, VBQ, P 219.
No drama during the primaries of the political "parties" to select governor's candidate was followed with keener interest than that of Lagos State.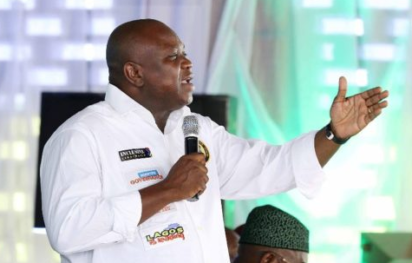 I should know. From the first time there was a hint that some people were planning to challenge Governor Ambode for the seat the usual question East, North, South and West of Nigeria was: why would anybody want to waste his money by contesting against the governor adjudged to be the best performer in the 2015-2019 class?
At first, when asked that question, my answer was the same. "There must be a powerful force behind the move.
We will soon see the face behind the masquerade." Well, we now know who is behind it. And, a new chapter in the history of Lagos State politics has been opened. The last has not been heard yet of this war for the soul of Eko.
Kano State Govt. inaugurates enrollment drive campaign c'tees
The temporary winners will be well advised to remember that. So will the national leaders of the All Progressives Congress, APC, in Abuja.
Granted, Buhari, Osinbajo and Oshiomole tried their best to avert the ill-wind from blowing into Lagos; but they laboured in vain and they will feel the impact of a war declared without their consent in Lagos as will be explained later. Even the National Leader, Asiwaju Tinubu had become a captive of the powers that he created. Ambode was removed against his wish. Already, that subtle loss of control will haunt him in the future because it now means that his power is no longer absolute.
"The battle that counts is the last." John Nuestadt, in POWER AND PRESIDENTS.
One new member of the APC, like most violent men, who enter premises by kicking in the door, announced that "Warsaw saw war and war saw Warsaw". Neither Buhari nor Oshiomole cautioned him. Former President Jonathan also turned a blind eye to the man when mayhem was unleashed in his state against political opponents from 2007 to 2011.
I hope Jonathan now realises his monumental error of judgment now that the same man has taken his guns on the APC. People are dying once again in a state which has remained peaceful since he left office in 2015. But, history will laugh last at the man who forgot that Hitler, 1889-1945, who waged war on Warsaw, died in a lonely bunker as his country was totally destroyed by those he thought had been defeated.
Coming from a minority ethnic group in the state, the short-sighted man might be sowing the seeds of majority revenge on his own people in the future. He might even live long to see the results. I pray he does.
Lagos guber primary: Tinubu meets stakeholders today, gives final word on Ambode, Sanwoolu
Just in case you are wondering the relevance of that to the Lagos State issue, let me quickly explain. An unprecedented political war has started in Lagos within the ranks of the so-called progressives – specifically the APC. Just as Hitler over-ran Poland and Warsaw in the first blitz, he triggered reactions from other on-lookers resulting in a wider conflict which the Germans eventually lost. Ambode's ouster has also brought a lot of bystanders into the Lagos conflict. Suddenly, Bola Tinubu and the 10,000 member Mandate Group which staged the coup against the Governor better be prepared to fight several battles and on all fronts. It is no longer just Mandate Group versus Ambode; it is Mandate Group against a lot of interest groups in Lagos. Alausa might still not be theirs in 2019 judging from feelers reaching me virtually 24/7. Collectively, their victory might turn out to be pyrrhic.
Meanwhile, Ambode has been defeated and humiliated by people he once regarded as friends and comrades. Even his subordinates – Deputy Governor and Commissioners as well as heads of parastatals. The encirclement was complete. But, he now has a consolation. He now knows his enemies. Those working closely with him can now wipe those false smiles off their faces and snarl honestly. Their hypocrisy has been revealed. For his own part, Ambode should now go ahead and dissolve his cabinet. Nobody can dictate that a Chief Executive Officse should continue to work with his enemies. That will only gain more sympathy for Ambode. APC will certainly pay a heavy price for this.
"Governments are best classified by considering who are the "somebodies" they are in fact endeavouring to satisfy," Alfred Whitehead North, 1861-1947.
Bola Tinubu summarised the case of the Mandate Group against Ambode by saying that "he has performed well, but he is not a good party man."  He later added that the Governor had deviated from a Master-plan developed in 1999. That later amendment to the charges has some merits. Given Nigerian governments' penchant for ignoring projects started by their predecessors, continuity for well designed programmes and projects is certainly to be encouraged. However, in a rapidly changing world, slavish adherence to a plan developed eighteen years ago should also not be countenanced. Each project should be reviewed periodically to ensure relevance and feasibility. There can be no excuse for throwing good money after bad projects just for the sake of continuity. Every governor in office is elected to take decisions based on facts available to him at the point of making them.
In the end, a lot of people, not in Mandate Group, still went away thinking that not sharing state's money was Ambode's sin. Had he done that, every other transgression might have been forgiven. That precisely constitutes the Achilles' heel of the Mandate Group.
It is irrelevant whether that view is true or not. The likely voters who believe it will act on it on Election Day in 2019 and make APC pay dearly for it.
What makes the situation more difficult for Mandate is the fact that many are now questioning whether it is legitimate for a group of people, mostly from Lagos Island, to assume that any government in Lagos is in power just to serve them. In a multi-ethnic melting pot like this state, they wonder how their own interests have been considered in all these.
HOW ON EARTH DID WE GET TO THIS TIGHT CORNER?
My family had always been in the progressive movement since the Action Group days. I never thought the day would come when not voting for progressives would cross my mind. The mess in which APC finds itself in Lagos State is not only leaving me and a lot of others perplexed; it is making us think the formerly "unthinkable".
Will somebody please tell me how we got into this corner?
Subscribe for latest Videos