SELDOM, if ever, in football history have two individuals come to so strongly represent a rivalry between two clubs.
For the past decade, the Clasico between Barcelona and Real Madrid has been defined to an enormous extent by Lionel Messi and Cristiano Ronaldo.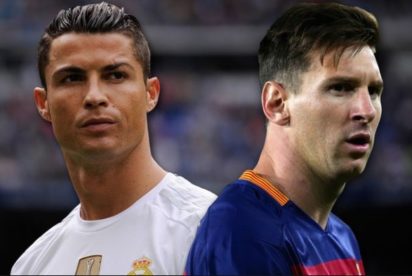 So how strange it is going to feel next Sunday when the Clasico is played without either Messi or Ronaldo on the field for the first time since December 2007?
Ronaldo, of course, signed off nine years with Real by helping them complete a hat-trick of Champions League triumphs before joining Juventus in a £100million deal in July.
Croatia's Luka Modric wins FIFA best player of the year award
And Messi will miss next weekend's Nou Camp showdown after suffering a fractured arm in Barcelona's 4-2 win over Sevilla on Saturday night.
The last time there was a Clasico without either one of the stars was way back on December 23, 2007.
Ronaldo was in his penultimate – and most successful – season with Manchester United, while a blossoming Messi was sidelined that particular night with a thigh injury.
We were starting to appreciate the brilliance of 20-year-old Messi at that time. The previous campaign had seen his breakthrough into the Barcelona side, and 2007-08 had begun with eight La Liga and four Champions League goals.
Barcelona Vs Sevilla : Five players to look out for
But despite the Argentine's efforts, Frank Rijkaard's Barcelona were trailing their Madrid rivals as they met just prior to Christmas in Catalonia.
With Barca entering the contest four points behind Real, the under-pressure Rijkaard understandably put full faith in his star men, with Ronaldinho taking Messi's place and Deco recalled for Eidur Gudjohnsen.
With hindsight, it looks a formidable Barcelona side – in midfield and attack at least – with Deco alongside Yaya Toure and Xavi in midfield and a front three of Ronaldinho, Samuel Eto'o and Andres Iniesta in an advanced role. Thierry Henry was on the bench as Barca attempted to protect an unbeaten home record.
Up against that was a strong and confident Real side coached by German Bernd Schuster in what proved to be his one and only full season at the Bernabeu.
They had suffered defeats to Espanyol and Sevilla in the first half of the season, yet had led the standings since the second week and were in no mood to surrender their advantage.
At the back were the likes of Iker Casillas, Pepe and Sergio Ramos, players who would become stalwarts of the team. Up front were Robinho, Ruud van Nistelrooy and Raul – a trio that simply screamed goals.
It soon became apparent that Real were the superior team, with Pepe heading a Wesley Sneijder free-kick straight at Victor Valdes during the opening exchanges.
The game's decisive moment arrived on 36 minutes. A long pass was mistimed by Gabi Milito and found Van Nistelrooy, who shifted it wide to the onrushing Julio Baptista, the erstwhile Arsenal playmaker.
The Brazilian known as 'The Beast' nudged the ball inside the area and smashed it past Valdes into the top corner. Schuster's decision to retain faith in Baptista rather than recalling Guti had been vindicated.
Real looked dangerous on the break and could have added to their lead, with Robinho having a penalty appeal waved away and Ramos denied by Valdes at his near post.