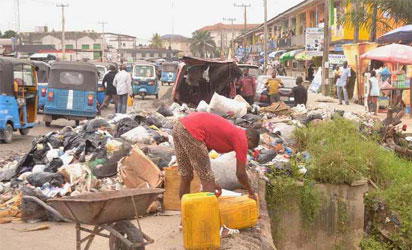 Warri and filthy
Ikorodu (Lagos State) – Fear of an outbreak of diseases has gripped residents of Ikorodu in Lagos State, due to the inability of the State Government to evacuate refuse dumps in the town for more than three months.

A News Agency of Nigeria (NAN) correspondent in the town reports that refuse heaps have littered all nooks and crannies of the community, raising fears that an outbreak of diseases may be imminent.
It was learnt that the refuse dumps could not be cleared because contractors handling the evacuation of the wastes had not been paid various sums accruing to them.
Speaking on the development, the Chairman of the Ikorodu Branch of the Association of Waste Managers, Mr Olajide Olaremi, lamented that members of the association had not been paid for their services over the months.
He said that members of the association were not on strike as was being speculated by members of the public, explaining that the problem hinged on government's inability to pay contractors for services rendered.
"There is nothing like strike. If our outstanding debt is paid, we will go back to work and Ikorodu environment will return to normal and everywhere will be clean.
Similarly, another contractor, Alhaja Kafilat Ayinde, said that the management of Vision Scape, the South African company handling refuse clearance on behalf of the Lagos State Government had not complied with the terms of the agreement it reached with local refuse clearing contractors.
"Vision Scape and PSP operators signed MOU that all private operators would be paid after 15 days of their operations but this has not been carried out.
https://newlive.vanguardngr.com/2018/10/flooding-oguta-residents-count-losses/
"There is nothing wrong with our compactors, we have huge debts to pay, staff salaries, motor parts and we cannot even buy diesel to power our trucks because we have not been paid.
"If our outstanding debt is paid today, we will start work immediately. We are appealing to Gov. Akinwunmi Ambode to immediately swing into action and solve the problem so that the environment will be healthy again,'' she said.
Also speaking, Mr Fatai Ogunyemi, Managing Director of Abike Global Services, appealed to the Lagos Government to ensure prompt payment of the outstanding debts.
"We signed an MOU that private operators should take care of domestic waste while Vision Scape should take care of the commercial aspect and that every private investor should be paid after every 15 days of work.
"Right now we have not been paid for more than two months and we stopped working.
"All efforts to meet the management of Vision Scape to fashion out a solution was disrupted by the Vision Scape management.
"We cannot continue to clear refuse because we need to pay our huge debts, especially salaries and the management of our companies,'' Ogunyemi said. (NAN)