By Victor Ahiuma-Young
United Labour Congress of Nigeria, ULC, weekend pleaded with the Senate to  reject the federal government request to borrow U$2.78 billion and U$87 million foreign loans to refinance existing foreign debts,   q saying: "It is unacceptable to us as it does not make economic and common sense at this time."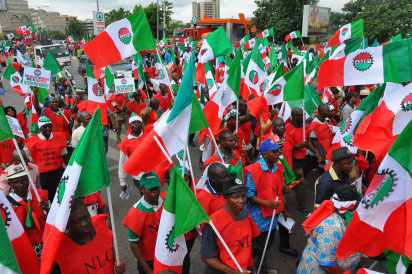 In a statement by its President, Joe Ajaero, the group while  condemning the plan to borrow such sum to finance part of the 2018 budget, contended that "We remember that this year's budget is predicated on a crude oil benchmark of about U$55/billion but the current international price of Oil is around the U$88/billion mark.
This is clearly about U$30/billion in excess that accrues to our Excess Crude Oil Account. Fortunately, since this year, these prices have remained consistently well above this benchmark."
How we captured terrorist from Rivers hiding in Edo —Danesi, the Aidonogie of South Ibie
The statement read in part: "We are worried that the Federal Government is in such a hurry to plunge the nation back into the debt trap which our nation worked assiduously under the leadership of former President Olusegun Obasanjo to escape. We remember that we had to pay over a whooping U$12 billion in one fell swoop to enable us exit the stranglehold of the debt regime. That huge fund would have helped this nation expand its infrastructural base but  debt repayment took them all.
ULC is deeply worried that our debt profile is increasing and burgeoning at an alarming proportion especially when it is remembered that in just three years our debt profile has grown to nearly U$30 billion and is still increasing just like the amount being requested for approval by the federal government.
2019: 'Don't replace old irresponsible leaders with young irresponsible leaders'
"We are worried that this scenario is already beginning to play out as the nation is borrowing U$87million to refinance its debt meaning that it could not internally generate requisite income to pay interests on its foreign loan portfolio. This is the beginning of a dangerous trend which we  felt the nation had overcome with Paris club debt repayment.
I've sued House of Reps over certificate forgery allegation – Obono Obla
"While other nations of the world think strategically about their future generations we have become like a nation that is bent on ruining its tomorrow by its present actions. Our leaders seem focused on eating down the resources that would be available for the future generation. We must as a nation remember that the present generation does not actually own Nigeria but that we borrowed it from the future generation."