A new premium high strength cement from the staple of Dangote Cement Plc, has been formally unveiled in Lagos to the delight of block makers, distributors and other stakeholders.
According to the Group Managing Director of Dangote Cement Plc, Mr. Joseph Makoju, the BlocMaster is a product of intensive research, laboratory and field tests and regulatory authorities' approval. According to him, the new cement comes with a difference and value for money.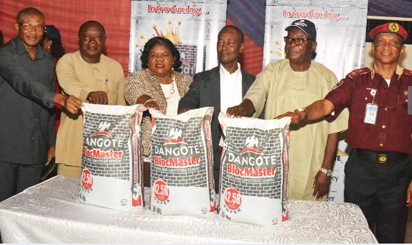 Makoju stated that all stakeholders involved in the value chain of cement were part of the research and the eventual formulation of the BlocMaster.
He said: "All stakeholders were involved, blockmakers, the regulatory agencies and the customers alike. We took samples to them to test before we finally concluded on the product.
"We identified an opportunity and a gap that has to be filled and we went ahead to design and formulate the BlocMaster. In addition, we are giving the product out at the best price that gives the best quality."
The Dangote Cement helmsman assured blockmakers and the distributors of steady supply because the company operates the largest fleet of trucks for distribution of Dangote cement. We use over 7,000 trucks for product distribution, so there is no issue about timely delivery to every nook and cranny of Nigeria."
Explaining qualities of the new product, the Dangote Cement Group Chief Marketing Officer, Oare Ojeikere said Dangote BlocMaster is a premium high strength Portland limestone cement that gives users up to 50mpa in compressive strength after 28 days.
He pointed out that the product is Ideal for concrete applications that require very high final strength and durability.
"BlocMaster has been tested, and proven, to provide the best performance for all concrete applications that require rapid early strength, higher final compressive strength, and fast setting. It outperforms all other bagged cement products in Nigeria, and it is the cement of choice for all major construction projects", he added.
Oare stated that Dangote Cement is made in Nigeria but loved across Africa because of its high quality. "And it is because we can vouch for our products high quality that is why we are in so many African countries.
"We are the king in this business as we control more than 60 per cent of the cement market. We introduced to you 3X 42.5R, we have Falcon, and now we are rolling out BlocMaster, as the name suggests we want the name to resonate anywhere cement is mentioned, that is why we called it BlocMaster."
https://www.vanguardngr.com/2018/10/abia-pipeline-explosion-nema-raises-alarm-over-condition-of-pipelines/
In his comment on the product, Representative of the Director General of Standard Organization of Nigeria (SON), Joseph Ugbaja endorsed the BlocMaster, saying it is another quality product from Dangote Cement, a company that is known for its strict adherence to standard as stipulated by the authorities.
He described as a good development in that Dangote Cement has now produced a higher 42,5 grade of cement even for the use of block makers.
Ugbaja stated that his organisation has been making routine visits to Dangote Cement plants across the country and the company has never been found wanting when it comes to meeting standard. "They always exceed stipulated standard. We are very proud of them," he said.