The Governor-General of Canada, Julie Payette, on Tuesday inaugurated a 4.5 million dollars Lagos Biobank for effective management of outbreak of diseases, research and development of vaccines at the Mainland Hospital in Yaba, Lagos.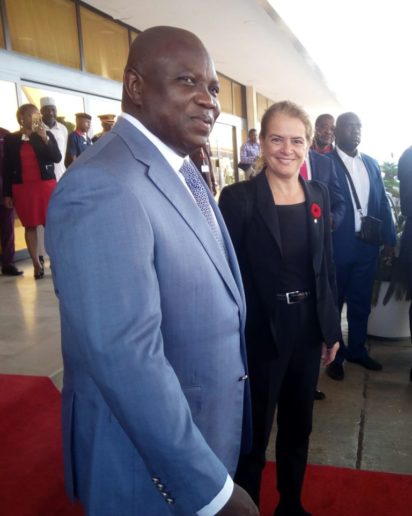 Payette said that the West Africa Ebola outbreak underscored the need for countries to intensify cooperation and coordination to prevent the spread of diseases and to effectively counter epidemics.
"In this context, the governments of Lagos State and Canada joined together to design and build a new biological containment laboratory and secure storage facility,'' she said.
22 Children to get healthcare sponsorship from StarTimes
Payette commended the Lagos State Government for containing the 2014 Ebola outbreak, saying the facility would better equip the state to mitigate post-Ebola threats.
She said the facility would also assist to strengthen capacity to prevent, detect and respond to all manner of future disease threats naturally occurring or deliberately caused.
Kaduna crisis: Buhari meets religious leaders today
Payette said:  "I must say I had a thought knowing that we were coming here to open such an important facility.
"A facility to prevent, detect and respond to about the worst calamities possible outcomes that could happen.
"The incidence of infectious disease if not contained could do so much damage and could ravage so many lives.
"It is absolutely essential to have a facility like this to make sure that it never happens.
"As serious as the outbreak was here in Nigeria and elsewhere in West Africa, it could not have been much more and worse."
According to her, Canada is very glad to have filled that gap with you with this laboratory and Biobank.
"We will continue to collaborate with you in this important effort. We also work in Canada in our microbiology laboratories to contain other infectious disease and still working on Ebola and other treatments.
"The disease is very deadly. We have experimental treatments that are now coming up so that the possibility that we can cure or treat diseases better is in front of us.
"And we have to continue toward that goal so that diseases like Ebola do not anymore mean a death sentence,'' she said.
Earlier, Gov. Akinwunmi Ambode said that the state was excited to be part of the project.
Ambode said the facility would help public health practitioners not only to detect but boost clinical management of such outbreak with the state bearing the cost of training, maintenance and community engagement.
NAN