By Anthony Ogbonna
President Muhammadu Buhari who is the presidential candidate of the All Progressives Congress, APC, has again, failed to provide his academic credentials to the Independent National Electoral Commission, INEC, as one of the requirements to qualify to contest elective positions in the country.
17 parties submit presidential, NASS candidates list, ahead of today's deadline — Yakubu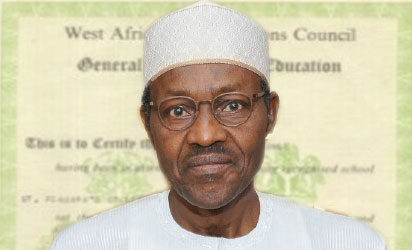 President Buhari who is seeking a re-election in office however told INEC that all his academic credentials, including his West African Examination Council, WAEC, are with the military.
REVEALED: How FEC approved N12.15bn for Katsina water project
This is just as INEC has published 79 political parties who will be fielding candidates for the 2019 election.
While the Peoples Democratic Party, PDP, candidate and former Vice President of Nigeria, Atiku Abubakar submitted his academic credentials, including a Diploma in law as his highest qualification, President Buhari, in a sworn affidavit, told INEC that his credentials are with the Secretary of the Military Board as of the time of this affidavit.
Buhari's sworn affidavit read, "I am the above named person and the deponent of this affidavit herein. All my academic qualification documents as filled in my Presidential form, APC/001/2015 are currently with the Secretary of the Military Board as of the time of this affidavit."
Recall that during the 2015 election, then candidate Buhari had submitted same claim in his affidavit, saying his credentials were with the military.
But the military, through the then director of army public relations, Olajide Laleye, had denied the military was in possession of Buhari's academic credentials.
In a release then, the army had said, "Records available indicate that Major General M Buhari applied to join the military as a Form Six student of the Provincial Secondary School, Katsina on 18 Oct 61.
"His application was duly endorsed by the Principal of the school, who also wrote a report on him and recommended him to be suitable for military commission.
"It is a practice in the NA that before candidates are shortlisted for commissioning into the officers' cadre of the Service, the Selection Board verifies the original copies of credentials that are presented. However, there is no available record to show that this process was followed in the 1960s."
Subscribe for latest Videos