By Emeka Obasi
For 50 years circumstances surrounding the death of Major Isaac Jasper Adaka Boro remain in the realm of mystery. Someday, the globe will get to know the truth for there is nothing hidden under the sun.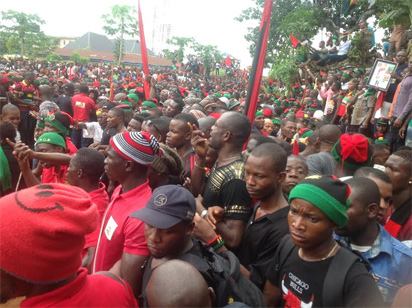 Five years ago, Brigadier Godwin Alabi-Isama, Chief of Staff, Third Marine Commandos Division of the Nigeria Army during the Civil War came out with a picture of a Biafran soldier who killed Boro.
The photograph which Alabi-Isama used in his book,'Tragedy of Victory,' was to put paid to speculations that Boro was indeed, killed by Nigerian troops as opposed to the official position that he was shot by Biafrans.
Airport workers' strike bites harder
Alabi-Isama did a good job in his book, but just like he criticized Gen. Olusegun Obasanjo's work:'My Command,' the former's account cannot equally be relied upon as error free.
Recently, an eye witness told me that the prevailing view among the Ijaw, Boro's people, is that the Niger Delta fighter's death was an inside job and that there was no way Biafran troops could have gunned him down.
He said: "I wasn't a soldier but I was in a trench, not far from Refinery.  Boro's death was fuzzy. The prevailing Ijaw view is that it was an inside job by Federal soldiers.
" The gallant Biafran soldier, how many targets did he bring down on Boro's line? Within the immediate theatre, there was no big casualty. Around Onne, Eleme, Refinery, Abuloma, Port Harcourt, there was a rain of naval splinter shells. Sparsely armed Biafrans scampered to Aba/ Owerri."
He added that the Biafrans were not the best of troops at that sector because many of them ran from battle and were helped to safety.
My Presidency quest Nigerian, not Igbo, says Moghalu
"Approximately 95 percent of Biafran soldiers at that sector did not have guns. We paddled many to Abuloma, to escape through Port Harcourt. How many Federal troops died from Okrika, Refinery to Eleme? I have questioned many 3rd Marine commandos, none could explain."
Biafran Army Chief, Gen. Alex Madiebo's submission seems to support the eye witness because just two battalions of 1,000 militiamen were hurriedly assembled by a civilian, Mr. Onwudiwe.
They were equally commanded by a militiaman, Joe Achuzia, who claimed to have fought for the British in Korea, as George Taylor. He took control after the more experienced, Col. Ogbugo Kalu, and his 52 Brigade were withdrawn.
Obasanjo, who took over as GOC from Col. Benjamin Adekunle, said  Boro was killed," apparently by a fleeing rebel soldier whom he encountered during a private visit."
We do not have to believe Obasanjo because he was not sure since he became GOC on May 12, 1969, a year after Boro was killed in Ogu, Okrika on May 9, 1968, just six days after his 30th birthday.
Boro had become popular in Lagos for helping the federal advance in the creeks. His rag tag army of Niger Delta Volunteer Forces made up partly of graduates like Samuel Timipre Owonaru, Nottingham Dick, George Amangala and Boardman Nyanayo, ruled the terrain.
Alabi-Isama gave him credit. "That's Isaac Boro, that's myself, he was teaching me what to do. I was his commander, but didn't know enough," he said.
Boro's problem thus began. His rising profile did not go down well with someone high up in the Division. He had a second wife, Bunmi, and felt at home with the top officers who were majorly his in-laws.
Obasanjo thought Adekunle got carried away by the commandos' advance. He said: "Col. Adekunle at this juncture, saw the war not only in terms of crushing a rebellion but as a means of building himself up for any future political position or responsibility which he might like to seek."
Killing of fellow officers and men was recorded on both sides. Adekunle was said to have planned an ambush for his two staff officers, Alabi-Isama and Lt.Col. Alani Akinrinade, at Asa Railway line, on their way to Port Harcourt.
In December 1967, Capt. E.S. Nweke of Biafra's 53 Brigade was executed by his men, led by one Company Sergeant nicknamed, 'One man, One bullet,' around Amadin-Olo.
Alabi-Isama could also have made mistakes concerning who really killed Boro. In an interview he granted The Nation newspapers on July 7, 2013, he claimed that Cols Nduka Okwechime, Sylvanus Nwajei and other Mid-West officers did not join Biafra.
"The Mid-West officers, the Igbo officers they depended on ran away, they didn't stay with them. Nwajei was not there, Okwechime was not there."
How wrong. Nwajei, first Commandant Supply and Transport of the Nigeria Army, was the first GOC of Biafra's 14 Division and fought in Awgu and Oguta creditably. Okwechime, First Commander,Nigeria Army Engineers, was Adjutant General of Biafra Army.
Okwechime, Gen. Yakubu Gowon's course mate, was promoted Brigadier alongside Tony Eze and Ogbugo Kalu after Owerri was recaptured. Col. Ben Ochei was Commander, 55 Brigade. Lt. Col. Macaulay Nzefili, an Ndokwa man, like Alabi-Isama was in Biafra with his parents.
Brigadier Conrad Nwawo, the 10th Nigeria Army officer and most senior Mid-West officer, was GOC, Commando Division before moving to 11 Division. Hippolytus Asoya was GOC 'S' Division. Achuzia rose to become GOC 13 Division.
Chief of Biafran Navy was an Ika man, Captain Wilfred Anuku, who was at Dartmouth with Mike Adelanwa, the third Nigerian CNS. In the Air Force, there were Goddy Amuchienwa, Gab Ebube, Chris Ogbolu, Mike Amanyeiwe and Larry Obiechie.
Biafrans loved Boro. As a Chemistry student of the University of Nigeria Nsukka, he won election as President of the Students Union for the 1964/65 session defeating the Igbo duo of Francis Okolie and Jude Emezie.
When he declared war against Nigeria under Gen. Johnsosn Aguiyi-Ironsi, an Ijaw man, George Kurubo, had been appointed first Nigerian Chief of Air Staff. The officer who led troops to battle Boro, John Obienu, did not kill him.
Boro appeared before Justice Phil-Ebosie of the Port Harcourt High Court. He was not condemned. He was jailed. Nigeria released him and he fought against Biafra. At the Boro Colloquium in 2013, Keynote Speaker was Emeka Enejere, President of Biafra Students Union.