By Sam Akpe
Henry Seriake Dickson has a towering physique. Not lanky. Instead, he comes in the mould of a war tank—huge and slightly menacing, with a look that could scare; except for the fluttering smiles that are both awe-inspiring and sweet. When he talks, you feel something like a thunder piercing your eardrums.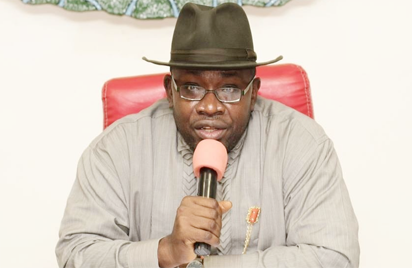 A lawyer and administrator, he speaks with the authority of a lord—half commanding and half assuring. He is the kind of man that you cannot walk past even on the street without some show of reverence.
Mostly dressed in the traditional Ijaw attire with choice beads, two significant items make him stand out no matter how huge the crowd is. First is the walking stick. Whatever value that stick adds to his persona is yet to be revealed.
Sometimes, the walking stick seems too short for his height. Still, he seems unable to do without it. The second item is the bowler hat; something in the class of—if not superior to—what the late Winston Churchill used to adorn. Anytime he takes a walk, dressed in these two items, the demeanour and the strides are doubtlessly majestic.
Delta Primary Poll: Ex-Speaker drags APC, INEC, Ogboru to court
Some have interpreted his royal poise to mean arrogance. But for those who knew when he was a small time lawyer before growing in politics to where he is now, pride is not one of his short-comings. I recall the days he used to visit the Punch Office in Port Harcourt with press releases.
At that time he was the secretary of a certain socio-political group led by the late respected statesman, Harold Dappa-Biriye. One day he jokingly told me he won't leave my office until I wrote a story from a press release and fax to Lagos in his presence. His explanation was that, "this old man likes your paper a lot and had insisted that this story must be out tomorrow." We laughed. The story appeared the following day.
Perhaps, due to the exigencies of his office, since he became governor, I have only met him once at press conference in Abuja. But I still hold good memories of the past close encounters. A few days ago, a friend posted something on a social media platform.
It was a speech by Dickson some days earlier when 'Timi Alaibe, the designated but dumped chairman of the Oil and Gas Free Zone, crossed back from the All Progressives Congress (APC) to the Peoples Democratic Party (PDP) where he originally belonged.
Ordinarily, it would be expected of Dickson to be cold towards Alaibe, who, in 2015, wanted to wrest Dickson's job from him. In attempt to achieve that ambition, he left the PDP for the APC where he eventually dropped out of the race due to the insincerity of the APC leadership.
But on a second thought, Dickson knows he has nothing to lose in welcoming Alaibe back to the party he helped built and on whose platform he attained high heights in public office. This could have been based on the words of Fyneman Wilson, Dickson's political aide that, "the more we are, the merrier because it is easier to win election when we are together."
DELTA 2019: No squabble between us, say Ogboru, Omo-Agege
It could also be because of the large-heartedness of the governor who is about completing his second term and would not mind leaving behind a stronger PDP and a deflated APC. The state party chairman, Moses Cleopas, used the opportunity to tell the crowd about what most of them already knew about Dickson.
He came short of saying that if not for Dickson's usual magnanimity; the door to the PDP would have been permanently shut against the returnees. Perhaps, it was another way of telling them that though they were welcome back, their previous action of leaving when they were most needed was unacceptable. This was how he put it:
"Your Excellency, we are extremely pleased that God has given you to us. You have taught us many things in life beyond politics. We are so pleased and excited to be your political students.
Right from when you came on board, you made it clear to us that we are very few as Ijaw people in a nation that has not been very friendly to our people. And if we are that few, then there was the need for all of us to be on the same platform. That does not mean that we should not disagree on principles, but that we must always learn to accommodate one another and promote one another."
Then he changed to a reported speech, "It was because of this that immediately after elections, he requested for me to come. He said: 'Yes, we have passed through a very painful election, but be that as it may, we have to show leadership.' He said that there would be need for us to embrace our brothers. He said, 'Therefore Mr. Chairman; create an avenue that will bring back our brothers that are on the other side so that we will be together.'
"Even for thinking so, and for suggesting so, and to have made it happen up to this point…. Humanly speaking, the kind of election that His Excellency and the party passed through and the fact that God enabled us to win that election, it would have been difficult for us now to open the window for people that fought us to that level. But today because of the grace of God that is at work in his life to be accommodating, we are all celebrating what we are seeing."
Alaibe's return, with dozens of others, to the PDP exposed the fine points of Dickson's political life. In a beautiful speech he made at the event in Government House, Yenogoa, he preached unity rather than enmity. He sounded happy to have Alaibe and company back in the party. "Chief Alaibe, you are welcome back to your home.
Welcome back to your party; and all of you also. You and I have been in communication for some time about what is going on now. Today, we are here to formally receive and welcome you back home to your party. I have always said, and a lot of people have spoken about it: we honour and respect and regard one another and promote and encourage one another.
Out of time: APC set to dump Osunbor Appeal Panel report
"That is the only way we can change this place. And so, I have told the chairman and the political desk to, after today, get a convenient date to receive and welcome you. We shall have a major rally to receive you because you are a big fish. You cannot come back into the PDP and people do not know that you have come. So what is happening today is a prelude to your formal reception that the party will organise for you at a date to be mutually agreed upon.
"But let me say this, we were pained when you and all of you left at a time and hour that we needed ourselves most. But all of that is now history. What is important is what is ahead of us; not what has gone by.
I just want to assure you all that you are valued leaders of our party once again. You will all be integrated fully into the structure of our party—from ward level to local government level. And those of you who are senior players, you will be restored fully to your rightful positions—positions that you occupied before you parted ways with us unfortunately. I want to commend and appreciate you, Chief Alaibe, for not forgetting your home."
That was Dickson—the man who is said to have greatly restored the fortunes of Bayelsa State. He was not only politically diplomatic, but seemed to speak from his heart. Every statement he made attracted a huge applause. In that deep voice adorned with commanding tone, he made it clear that with the exit of Alaibe and others from the APC, the party was finally dead in Bayelsa. Well, that is a verdict left for those in the other camp to ponder over.
Akpe, a public policy analyst, sent this piece from Abuja