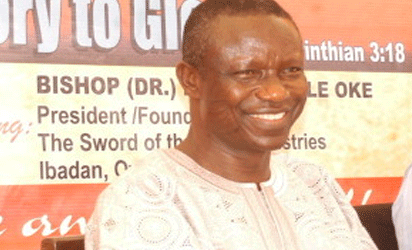 Bishop Wale Oke at the Vanguard Media annual Christian fellowship
ADO-EKITI—A renowned Cleric, Bishop Wale Oke, yesterday, declared Afe Babalola University, ABUAD, as a model for other Nigerian universities, if they are desirous of global recognition and best practices.
The Bishop of Christ Life Ministry in Ibadan, said this while delivering a sermon titled: 'Behold a New Thing' at the 6th Convocation thanksgiving of ABUAD held at Alfa Belgore Hall of the institution.
Oke commended ABUAD for cultivating the culture of gratitude saying a nation that wants to prosper must cultivate the culture and attitude of thankfulness.
https://newlive.vanguardngr.com/2018/10/capital-market-indices-up-by-0-12/
The cleric described ABUAD as message to other Nigerian Universities, saying, "they can be centers of excellence and an all round human development centers, as well as of global reckoning. If it is possible in ABUAD, it is also possible in other universities.
"I have been to the university to study and I have friends who own Universities, but ABUAD stands out.
"God has made ABUAD to be flourishing in the life time of Babalola and the Bible says that they shall still bring forth fruits in their old age. I am seeing Europe in ABUAD. It is a university of tomorrow."
https://newlive.vanguardngr.com/2018/10/ibb-university-introduces-french-course/