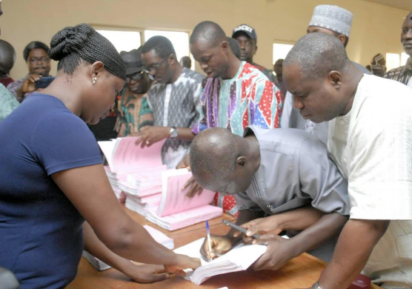 The Ekiti State Deputy Governor and Peoples Democratic Party (PDP) governorship candidate in the July 14 Ekiti governorship election, Professor Kolapo Olusola (middle) filing his petition at the Ekiti State Governorship Election Petition Tribunal in Ado Ekiti on Friday
By Josef Omorotionmwan
WE are almost impelled to start today's piece on the hypothesis that money is the sole determinant of electoral outcomes in Nigeria. In every election, the two major political parties spend big and win big while the small parties spend virtually nothing and win virtually nothing.
There is, therefore, a direct correlation between spending and outcome – the more you spend, the more you win.
However, we look aside and find that there are States in this country where, if you were to empty the vault of the Central Bank of Nigeria, CBN, into, with a view to getting them to vote for a particular candidate or political party, that would not significantly alter the outcome. These are subjects for investigation.
William Shakespeare was essentially right when he asserted, "What the great ones do, the less we  prattle  of". This assertion holds particularly true in the Nigerian situation. Vote-buying, which is not restricted to the voting day, has been with us since Independence.
For example, since 1999, when we returned to the current democratic experiment, we know of no viable political party that did not have a hefty budgetary outlay for INEC functionaries, the police and other security outfits. Consequently, virtually all the election officials arrived at their duty posts thoroughly compromised. Yet, nobody raised an eyebrow.
Politicians know the vote-catchers. Visitation to holy places increase at election periods. When a state Governor appears in any of those heavily populated worship centres – a church or a mosque – he drops a cheque of N10 Million Naira into the offering bag. At the announcement, the entire environment is totally enveloped in wild euphoria and unimaginable ecstasy. Of course, the money speaks for itself – vote for this party! There can be no more advanced form of vote-buying than this. It happens all the time.
The evil has been operating at the higher stratum of society. It has now arrived at the market-place – the doorsteps of the talakawas, hence it has been promoted to the front-burner.
In the beginning, vote-buying was done by private treaty and in utmost secrecy. We heard of cases where the purchase sums were stuffed in loaves of bread or inside newspapers as they used to do with the police at road check-points.
But in the recent gubernatorial elections in Edo, Ondo, Anambra and Ekiti States, the practice assumed a new dimension in which the electorates turned themselves into purchasable commodities; and boldly struck deals with political parties and their agents in the presence of law enforcement agents. At a particular location in Ekiti State, the policeman on election duty was the one who was dispensing the  largesse from a pregnant 50kg Ghana-Must-Go bag.
Again, in the same Ekiti State, the distribution of the purchase sum was said to have started in the night of the Thursday preceding the Election Day. Politicians moved from house to house distributing the amounts in sealed envelopes bearing the names of the recipients. Of course, there is a risk attached to every business. Some people took the money and did not leave home on voting day.
One is sometimes tempted to think that vote-buying may not be as injurious as it seems, particularly in the rural setting. Adherents to this view would see vote-buying as an incentive to pull your people out to vote for you. Chances are that even without the money, these people would still vote the same way. There was a case where Party 'A' offered N3,000 while Party 'B' offered N1,000. Members of Party 'A' took the N3,000 and voted for their candidate while members of Party 'B' gladly accepted the N1,000 and voted for their candidate. As they say in the colloquial, "At all, at all nahim be winch". That was their consolation.
Viewed critically, slave trade and vote-buying are concerned with the same elements – trade in human cargo. But the consequences of vote-buying are worse than those of slave trade in a number of ways: first, vote-buying pushes up the cost of elections and the natural propensity to loot once you get into office. The office holder who bought his way through must first seek to recoup his loss before beginning to think of development.
Secondly, it endangers not only the electoral process but also the entire democracy while promoting mediocrity and sometimes, outright imbecility. Our choice of leadership is no longer based on programmes and party manifestoes but on the highest bidder, no matter how  incompetent that highest bidder may be.
Thirdly, it dehumanises both the buyer and the seller – that a man chooses to reduce himself to the level of merchandise or article of trade is the worst thing that can happen to him. Even where people say that politicians are amoral, that elected official will, in his sober moment, feel a sense of degradation when he realises that he owes that office to some shady deals instead of his personal merits.
Fourthly, vote-buying mortgages the future of your children and those of generations yet unborn. The farmer who eats the tuber and the seed yam today may be alright now, but he must be prepared for starvation in subsequent years! Our society must also feel debased in the eye of the outside world when we are unable to organise free and fair elections, a feat that even the so-called banana republics easily achieve these days.
This evil is not likely to abate sometime soon because it is a con-game in which those who would have stopped it are part of it.
Once in a blue moon, some INEC officials have been rounded-up for some electoral malfeasance while the politicians who corrupted them walk our streets in unfettered freedom. This type of benign tokenism is far from what we need to tackle a problem of this magnitude. Our new approach must be holistic in enforcing our existing laws on electoral malpractices. Most importantly, there must be laws regulating and setting ceilings on campaign and election expenses.  This rumble in the jungle cannot continue!