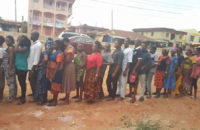 Voters queue up to cast their ballots in the Saturday local council polls in Edo State
The Campaign for Equal Voting Access (EVA) has raised an awareness campaign on equal voting rights for persons with disabilities (PWDs).
Mr David Anyaele, Chairman, EVA, said this in a Preliminary Statement on the backdrop of the Sept. 22 governorship election in Osun.
Anyaele said that the Campaign group was actively in the observation of the election organised by the Independent National Electoral Commission (INEC) and had received reports from across the three Senatorial Zones of the state.
"The key objective of the observation exercise was to observe provisions by INEC for persons with disabilities' participation in the election, and also raise awareness on equal voting rights for citizens with disabilities.
"Our observers were both male and female persons with disabilities mainly indigenes of Osun and others from across the country," he said.
He lamented that EVA for PWDs observed that the promised Braille voter's guide and Braille ballot paper by INEC for easy access of Election Day instructions, guidelines and ballot paper for Blind voters were unavailable.
Anyaele noted that most Polling Unit officials did not understand what Braille ballot paper was and its use.
"Tools for persons with hearing impairment to understand the voting process were missing at the polling units.
"We believe this will complicate access for the deaf or hearing impaired voters understanding of the voting process," he said.
The chairman said that the campaigns observation showed that large numbers of the polling units were not accessible to physically challenged persons.
He noted that most polling units were sited in difficult places such as buildings without ramps/handrail, across gutter, staircase etc.
He, however, commended INEC for the early opening of polling units as high numbers of the polling units were observed to be opened as early as 8 a.m.
"We commend the good people of Osun for the good turnout of voters and peaceful atmosphere.
"There was little or no report of violence or intimidation at the polling units.
"We were impressed to observe that marginalised populations from the aged, nursing mothers and pregnant women and persons with disabilities were offered priority voting.
"We really commend Polling Officials for their efforts in this regard," Anyaele said.
He recommended that INEC conducts an audit of the election to appreciate the gaps in deployment of Braille election day guideline and Braille ballot papers for the blind and sight impaired voters.
The chairman also appealed that INEC took appropriate measures to reduce the burden of physically challenged person's participation in the electoral process by siting polling units in accessible locations to ensure equal voting access for persons with disabilities.
"EVA calls on INEC to train all cadre of its Staff on equal voting access for persons with disabilities, especially as we approach 2019 general elections," he said.
Anyaele reassured stakeholders of its commitment to continue to support INEC and other election stakeholders with data to enhance intervention for persons with disabilities in the electoral process.
He appealed to the National Assembly to complete action on the Discrimination against Persons with Disabilities (Prohibition) Bill.
He noted that the bill would support PWDs in Nigeria's quest for equal voting access as the bill prohibits discrimination on the grounds of disability and other harmful practices.
The chairman urged INEC to address the issues observed by the campaign, especially as Nigeria was moving toward 2019 general election.(
NAN