By Morenike Taire
From humble beginnings, she has ramped up an impressive resume from the time she joined the civil service, through her times at the apex bank as a pioneer staff of the Computer Services Department of the Central Bank of Nigeria, the banking sector at the defunct Oceanic Bank, to where she is now as Executive Vice-Chairman of Moni Pulo Ltd, an indigenous oil producing firm.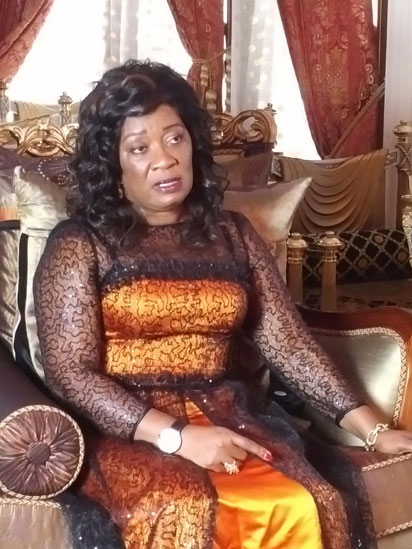 Mrs. Seinye O.B. Lulu-Briggs has interests in other businesses, as  Managing Director of reputable Rachael Hotels Limited, La Sien Bottling Company, bottlers of La Sien table water, Soliyama Limited, an asset leasing company, and in the hospitality sector, she is chairman of Asia Town Restaurant.
 Topping it all, this amiable amazon is also Executive Director of the O.B. Lulu-Briggs Foundation, an organization committed to the provision of humanitarian services and bridge-building initiatives for the youth, elderly, the infirm and disempowered peoples of the Niger Delta region.
 In the conversation below, Mrs Seinye Lulu-Briggs says she had never let anything stand in the way of her set objectives, affirming that obstacles spur her to greater heights. She spoke with Adekunle Adekoya in her Port Harcourt office in the days running to her birthday. Excerpts:
Many women, especially younger ones don't like to disclose the figure of their years. Will you be different as you make an opening statement?
As I plan towards the celebration of my 60th  birthday, most women will not want to publish their birthday, but I believe whatever we attain, whatever height we get to, it is something that we should celebrate and thank God for.
I will be celebrating my 60th  birthday and I'm very happy to say it. Turning sixty has made me look back at my life and recall events that happened and steps God allowed me to take to bring me to this moment. I see many things to be grateful and thank God for. I also have many things to share with people that can impact their lives.
People, real assets in oil, gas industry – AOGS
I want to always believe that the reason why we are alive is to touch people lives in one way or the other; otherwise no need to remain here. If you look at the world around us, it is not a nice place to be. In the world it should be the desire of every man to affect the lives of other people and bring some goodness to them.
I have 60 years to account for, as I look forward to another 60 years, with the current understanding I have now. I will say my joy is that I am starting the second half of my live.
Why exit civil service at a time it was the place to be for our best and brightest?
I started work in civil service when I was young. I won't say it was my choice because as at that time it was the only institution that employed young graduates just coming out of school; unfortunately that is not so today.
So I naturally joined the civil service in Rivers State, but when I returned after training overseas, I was looking for a place where they will have need for my person and the qualification I'm coming with. I read Computer Science, Data Processing and Management, which was very new here at that time. Many of our institutions did not even have computers installed. For call-up in the NYSC, I was posted to the Central Bank of Nigeria where I eventually become one of the pioneer staff of the CBN's Computer Services Department. Hitherto, I thought that the CBN had a fully established Computer Department, but in a way I was disappointed but it turned out to be the best.
I had a nice time as the CBN was establishing the Computer Department and also had opportunity to help train other financial institutions across Nigeria at a very young age.
As executive Vice Chairman of Moni Pulo, what are the challenges running indigenous oil company?
Coming into the oil and gas industry was divinely established; I married a man with vision to establish an indigenous oil and gas company that would perform at international level. When he made up his mind and got working to get an oil license, it did not occur to people then that a Nigerian can own an oil producing company. He was one of the first granted license to produce oil. Being his wife, I was naturally with him as the company grew over the years, so there was no better person who understood his mindset and also had been with him at top corporate level discussing with technical partners as well as working with regulatory body and staff. This is because my husband always made sure I was with him at every meeting.
This is not normal in the part I came from but you will never find my husband without me. When the time came for a Vice-Chairman to be appointed, there was no one more qualified than me by the grace of God.
The journey so far has been good because we did not have any challenge is beyond our power. I'm a believer and I have never been afraid to face challenges because I have noticed over the years in my life that every problem I faced led to success. At the end of the situation I find myself becoming stronger.
So as an oil Company we interface with our communities, regulatory bodies, contractors, consultants, among others. As normal living beings we have issues but none overwhelmed us. Some took time to resolve, but eventually we come out victorious. It is my faith and belief that God looks down on Moni Pulo and blesses us.
How about your corporate social responsibility profile?
It is my belief that the human being was not created to live alone; we have to relate with people. I grew up in a house where we had five boys living with us. I saw them as my family but only one actually is my real brother; the rest were just friends that I will say my parents adopted at very younger age. I live to accept that anyone that needs help and it's within my capability, I will help; maybe I took it from my father or mother I couldn't say. My father was a school principal who had many children in school; their parents managed to bring them to school and dumped them on him. Some paid school fees while some did not.
So, I grew up being used to people and my friends who have played big roles in my life. I relate to people. By special grace of God, I got married to a man who cares for the people, so it was not a problem to continue. With him I now have resources to do what I thought was normal.
My husband is a giver, he cannot leave people sad. A lot of people come to us for assistance and we thought it will be better to set up a foundation where we can do it on a large scale. That was what informed the O.B. Lulu-Briggs Foundation. Through the foundation, we are able to reach many people in Rivers State and beyond.
I have decided, from the understanding I have over the years that the reason why we are working, is that the benefits, profit from our company is to ensure many people will be thanking God.
The foundation is funded fully by the corporate entity we established and I'm running the foundation. Today I can say we have done a lot of work, but there is still a lot more to be done and that is why we are still working.
How did you come up, so to say, in a male-dominated world?
Firstly I want to say that I do not see this world as a male-dominated world. My experience in life has not made me feel I was deprived in life. I faced a lot of problems but my understanding is that whether they were cause by dominance of males or not, I look at problems as gateways to success. My focus always in life is to move on whether because of lack of funds or male dominated society or whatever reasons, I get happy when I see obstructions.
It strengthens me because I know behind a problem, there is the wonderful promise of God's blessing and it has been so. In primary or secondary school, I won't say I had the best of life, but they have brought me to where I am today, it is just about how we look at issues in life and how we tackle them, how we appreciate problems because inside the problem there is solution. Usually solution is not what we expect but it always turns out to be the best.
Subscribe for latest Videos