By Morenike Taire
If ever there were an odd duo, it would be that of Senate President Bukola Saraki and Senator Dino Melaye. While the Kogi born politician's garrulous, gregarious and grim demeanor is construed to be in keeping with his unionist background, his 'cousin' from Kwara is smooth, silent – almost like a predator moving  on the prey in terms of precision.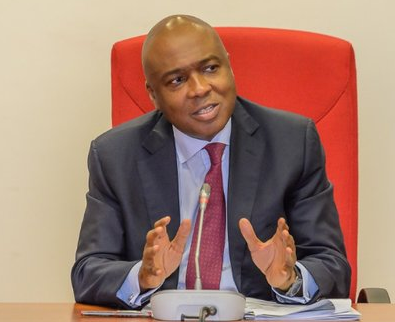 The suave Saraki and the salacious Melaye however have formed an informal alliance which nonetheless has defined the tone of present politics, particularly in these last days of the great pre election year .
They do have enough in common , mostly deriving from the fact of their coming from the same geopolitical zone and being rebels of sorts while in the ruling party. Surely, having common enemies can make for a good alliance, but ambulance chasing and constant firefighting is not the same as staying on a war path with the executive.
The trouble with any  tussle between the executive and the federal legislator is that the legislator is always at a disadvantage in the power dynamics.
The executive is king and Lord of his manor, while the legislator is merely an ambassador in a 'strange ' land. While the executive is playing home matches in perpetuity, The legislator is almost always playing away, far  from the area from which his power is derived while his power base is left incredibly vulnerable. In fact  upsetting the balance of a sitting legislator is the easiest thing in the world.
All his opposition needs to do is wait for him to go to Abuja and begin to engage sponsor someone at home to consistently engage his base while pointing out to them the legislator 's missteps and evidences of poor representation in far away Abuja. While true constituencies are difficult to sway , it also depends on who is behind the swaying, and how deep their pockets are. The trouble with Saraki is that, having been governor, he seems to have badly managed expetations of his present position.
The Melaye Saraki hangout can present more problems than it solves and it is not for the reasons most people think. The fact that Senator Dino is given to entertainment and is blessed with a hilarious disposition doesn't mean he has nothing upstairs or that he cannot come up with great ideas, while Senator Saraki's mien of introspection does not guarantee that his mind will generate useful deliberations. It is merely a matter of context, and how the public perception of the activity is managed.
Their eminent colleague Senator   Adeleke rose to sudden fame on the back of his dance floor dexterity and has faced severe criticism from many quarters while international presidential aspirant Kindsley Moghalu went dancing on the campaign ground in Eastern Nigeria last week, and was hailed for having a more easy going side than he had exposed to the public prior to this time.
In fact the pair have more in common than one might have thought, not least of all that they individually have scandal rapsheets one mile long. Showing up at the Ojude Oba festival in the company of Dino Melaye might have been a complete faux pas- one which has cost Saraki a unique opportunity to address the nation unhindered , and in the presence of   the South West elite, one with which he is already very familiar. If there is any lesson to be learned it is that we underestimate the complexity of this country and often apply a one size fits all approach to our interaction with people from different geopolitical zones.
From the hostility of the crowd at Ojude Oba, , Saraki has felt the pulse of the Ijebu youths concerning him. While the Awujale did the right thing  by telling off those behind the hostilities, what is done is done and those who have nothing to lose basically ought to be believed better those who do.  The prestigious Ijebu Ode festival is a tradition that has come to stay; not only pulling  the people of Ijebu Ode back home year after year, but also bringing in a vast range of high quality tourists who give the town's economy a serious boost each year. Little by little, it has been tainted with politics and if this is an undesirable thing overall, it has given  the spectator youth greater political awareness and the courage to speak to power. Shouting expletives at visitors is not nice and the Awujale condemned the act as a good father ought to do, but the youth has spoken from the abundance of its heart.
The issue is that Saraki is not choosing his friends carefully enough and in choosing them , he is using parameters that are guided by emotions rather than pure strategy. The Dino/Bukola team is  holding on to a very strategic buffer zone in the country; and the fact that they continue to to overcome plots to topple them says a lot about theirpolitical solidity. If either of them wishes to expand his scope and become more relevant in national politics, they will have to make more friends- particularly in the ranks of friends who were once foes. The most important skill a Nigerian politician needs to pick up towards 2019 is the ability to turn bitter political enemies into strategic best friends for mutual benefits.