Keisuke Honda is looking forward to an "awesome" showdown with sprint king-turned-footballer Usain Bolt in Australia, the Japanese star forward said Tuesday after his first training session with Cambodia's national team.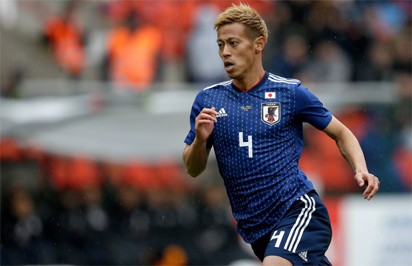 The Central Coast Mariners signed Bolt in August with the hopes of turning the eight-time Olympic champion into A-League material by the start of the season in October.
Honda told reporters in Phnom Penh — where he serves as volunteer general manager for the Cambodian squad — that he was unaware the world's fastest man would one day be his competitor.
"I didn't know when I signed with Melbourne Victory," said the former AC Milan player, who joined the Australian club's roster last month.
"It would be awesome if I can play against him."
The first game between the two clubs is set for November 11.
After his first practice with the Cambodian team, Honda reiterated his plans to "fix and improve" the side's on-field performance.
"I want to contribute all my experience to the Cambodian national team," he said.
"My mission is to change Cambodian soccer right now… but of course that's not easy."
Honda was not optimistic about his team's chances against Malaysia for Monday's friendly.
"It will be a difficult game as Malaysia is a very good country, it's very strong," he said.
Honda, with his trademark bleached blonde hair, emerged as a force to be reckoned with in 2010 when he helped propel Japan to the last 16 of the South Africa World Cup.
In July, the footballer teamed up with Hollywood star Will Smith to launch a venture capital fund aimed at helping "people in disadvantaged environments".
While he is now a full-time A-League player, Honda has said he will visit Cambodia for practice sessions whenever possible and communicate with players via video conference.
Cambodia's FIFA ranking sits at a dismal 166, but in recent years the side has packed out stadiums during home appearances.