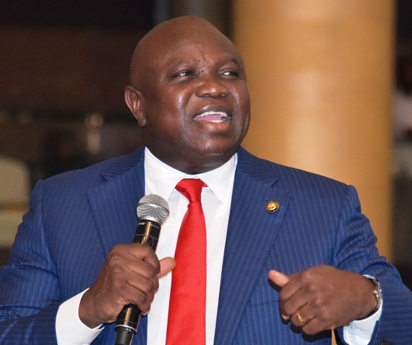 Akinwunmi Ambode
In a bid to address its housing deficit of over two million, the Lagos State Government has introduced a new technology which ensures construction of a bungalow within 48 hours.
Mr Gbolahan Lawal, the Commissioner for Housing, said the technology was already being used in its housing estates at Idale in Badagry and Imota in Ikorodu to achieve the government's target of delivering 2,000 houses.
"We want to see how to go into the manufacturing of homes, we make it seamless and produce about 100 units in a month.
"We have three companies, one is already at site; it is going to take 48 hours to put up a bungalow.
"They have the equipment and we have signed agreement with them. They are to produce 2,000 housing units and already they are in Idale in Badagry, from Idale they will move to Imota,'' he told newsmen on Sunday.
Lawal explained that some workers were also being trained in the technology and process of the construction.
The commissioner said that the housing sector had the capacity to create several jobs and generate demands for products and accessories needed in homes and, therefore, should be given priority attention.
According to him, investment in the housing sector usually have a multiplier effect on the economy.
Lawal added that various gadgets and accessories like tiles, electronics, water and electricity meters, mattresses, TV subscription and even various jobs like that of artisans are tied to construction of houses.
"Government at all levels should pay more attention to housing. The consumption aspect of housing is very important as it contributes greatly to the Gross Domestic Product (GDP) of the nation.''
On the use of cheaper building materials, the commissioner said the ministry had experimented with the use of materials like clay some years back but that availability and speed of delivery was the reason it dropped the initiative.
He explained that the state government was at the moment not exploring the use of bamboo, clay and wood to deliver cheap houses because the materials are not available in commercial quantities.
Lawal disclosed that a new housing policy aimed at tackling the state's housing deficit had been drafted.
"It is taking us more than 14 months to design the housing policy.
"That policy will be like a framework, like what we are going to be following and it is not going to be like a knee jack response,'' he told newsmen, describing the policy as a template or roadmap that will regulate the operations of the ministry.
The commissioner said Lagos State was the first to create a full-fledged ministry of housing in 1999 during the administration of ex-Gov. Bola Tinubu because of the importance it accorded shelter for the people, adding that Abia recently followed suit.
NAN