Gov.Kashim Shettima of Borno on  has endorsed Prof. Babagana Umara-Zulum, the State's Commissioner For Reconstruction, Rehabilitation and Resettlement to succeed him.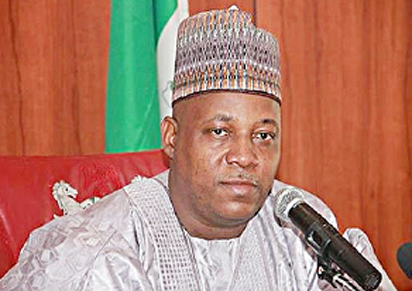 Shettima made the endorsement on Saturday night while addressing all the governorship aspirants in the state ahead of the Sunday's governorship Primaries of the All Progressive Congress(APC) in Maiduguri.
Shettima had within the last one month, held secret cosultations with stakeholders, traditional rulers and party chieftains  in order to get their views on the best candidte to succeed him.
Newsmen report that leading traditional rulers and Borno Elders have reportedly also settled for Zulum based on his integrity and track records of achievements while as commissioner.
Prof. Umara-Zulum, is an engineer and fellow of the National Institute for Policy and Strategic Studies, NIPSS.He was born in August, 1969 in Mafa Local Government Area of the state.
After his elementary and secondary education, he went to Ramat Polytechnic, Maiduguri, where he obtained a National Diploma in Irrigation Engineering in 1988.
From there, he proceeded to the University of Maiduguri to Study Agricultural Engineering between 1990 and 1994 after which he attened his mandatory NYSC service in Katsina State. He obtained his Masters Degree in Soil and Water Engineering from the University of Ibadan from 1997 to 1998.
He came back to Maiduguri to his Alma-Mata to undertake a doctoral degree which was successfully completed in 2009 in Agric and Environmental Engineering.
All along, he has been serving his state in various capacities as a technical officer up to the rank of a principal water engineer with Borno State Unified Local Government.
In the year 2000 he took up an appointment with the University of Maiduguri as an assistant lecturer in the department of Agric Engineering, he went through the ranks to become a Senior Lecturer in 2008. He later became the Rector of Ramat Polytechnic, Maiduguri.
In 2015, he was appointed Commissioner for Reconstruction, Rehabilitation and Resettlement by Gov. Shettima, a position he held till early this week when the Borno State Executive Council was dissolved.
NAN