Faith was having a private dinner at a push restaurant with her current sugar-daddy when she spotted her mum's best friend at the reception.  "It was too late for me to avoid her not noticing me", Faith said. "Aunty May as we all called her is my Mum\s very good friend and my `partner' is one of her friends' husband.  I'd actually met him at her place when they had a house-warming party. I could always tell a bored, rich old man from a distant and I made a bee-line for him.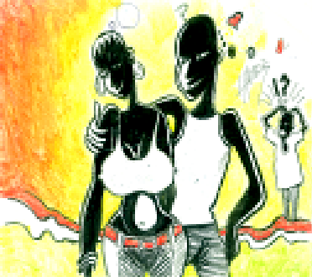 "Mike, as he later introduced himself was a very successful businessman and he was flattered to be chatted up by me. I was a fresh graduate but looking for a salaried job was the furtherest thing on my mind. Even as an undergraduate, I'd built a very impressive clientèle of men who found my type of beauty alluring. I was tall, very light-skinned – not bleached with boobs to die for. And I was a good girl.  Largely because of the solid moral grounding I got from my Muslim father, who sadly passed away five years ago, and my hospital matron mother.
"It was my close friend, Angela at the university who introduced me to this life of leisure I love so much.  She got drunk one night and blurted out something as soon as she came through the door of the room we shared.  `Faith, promise me you won't tell a soul but I've got something to tell you. I've been dying to tell you for months now'.  `What is it?'  I quizzed her. `Have you got a new boyfriend?' `Humph, sort of", she giggled mischievously.  `I've actually got PLENTY of boyfriends and they pay me well for services rendered!' I was gob smacked. `Are you tell me you're a prostitute?'
"It turns out there is this lively house she visits from time to time. It is owned by a glamorous socialite who'd hosted a lot of men since her husband passed away decades ago", even whilst her husband was alive, she'd made little or no efforts to hide her escapades. As she and her `gang' grew older, they encouraged younger single girls to visit so the men would be spoilt for choice.  `I's easy', Angela told me.  `As long as you like sex, it's a breeze. You should give it a go' While the thought first repulsed me, I couldn't get the idea out of my head. Could I actually do it? What would Mum say'  In the end I did take the plunge and the money along with the contacts were so intoxicating I never looked back.
"Now here I was face to face with my mum's friend cossying up to her friend's husband!! She looked surprised and disgusted to see us and went off in a huff even as we tried to be friendly. I knew she would be making her way to Mum's and I was right, she was very upset when I went to see her at her insistent.  It would be foolish to deny anything and I told her I'd been with Mike for months and he was the one who paid for the flat I currently lived in.  She burst into tears. `You're not my daughter any more.  You're just being selfish and you've shamed the entire family.  I was so proud of you and now you're doing something absolutely disgusting. What would you dad say?  You need to stop, and you need to come back home'.
"But I didn't. I knew I enjoyed what I was doing and I had to make Mum see how happy I was. In the meantime, I have what you could call a double life. By day I volunteer at my church helping children with learning disabilities and it's so rewarding. I absolutely love to see the smile on their faces as I entertain them. The rest of my free time I spend at the gym, getting ready for when Mike visits. The nights he couldn't make it, I would wangle in a quickie if the price was right.
"Very few people know about this side of me, the me that have slept with loads of men over the couple of years I'd bitten into the forbidden fruit!  One thing's for sure, my work is never dull, and I meet some interesting people!  One lawyer that paid for my services a few weeks ago wanted to  pick him up a Uber cab, give him a little pleasure as we drove around and then drop him off right in front of his house with his wife still busy in the kitchen.  He found it hilarious. `I'm just going to tell the wife I nipped out to the club for a quickie!'.
"In spite of all these pranks, I'm still the same old Faith, someone who loves to help people in need. I know I'm not perfect, but I like to think that I've got a heart of gold, and I'll continue with my charity work for as long as I can. Eventually, I would settle down and have my own family …"
Five Facts You Need To Know About Orgasms
1.It's just not the one.  Multiple orgasms are far more common than was one thought. And they tend to occur more frequently in mid life.
2.Orgasms happen at the peak of sexual arousal. The vagina and the sphincters around the anus and the urethra contrast rhythmically, 10 to 15 times.  The feeling is always pleasurable, and the sensations afterwards are relaxation and contentment.
3.All women can orgasm. About one in three of women finds it had to climax. This is down to not getting the clitoral stimulation 80 percent of them need to peak. Ten percent of women never orgasm, but that doesn't mean they can't or that it's too late to start.
4.Orgasms improve with age. Many women in their 20s say they find it hard to orgasm, unless they're masturbating. But as they mature they usually become more knowledgeable about their bodies and what gives them gratification with a loving partner.
5.Women last longer. It usually takes women a good 20 minutes of sexual activity to reach a climax. Men, on the other hand, can be completely done and dusted – from penetration to ejaculation, and possibly put their clothes on too – in about eight minutes!