By Donu Kogbara
DURING his recent visit to Ireland, Pope Francis received a barrage of criticism from protesters who are understandably furious about the sexual, physical, emotional and legal abuse that evil Irish Catholic Church personnel inflicted on vulnerable children and women for decades.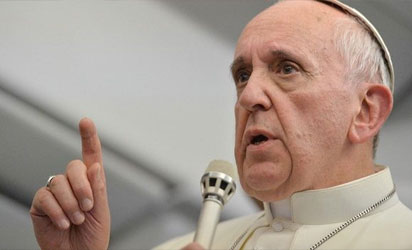 Unmarried mothers were incarcerated in workhouses or known as Magdalene asylums or laundries; treated like slaves and deprived of their babies (who were also treated like dirt, to punish them for their mothers' sins, or sold to "virtuous" childless adoptive parents).
There were even large numbers of mysterious deaths. In one such County Galway establishment, run by nuns, 70% of the children of "fallen women" died in circumstances that have never been clarified.  In the grounds of another in County Cork, a septic tank containing 800 youngsters' corpses was found.
And in case you think these stories are about dark and distant ancient history, the last Magdalene wasn't closed down until 1996.
Then there are the numerous testimonies of Irish boys who were raped or assaulted by priests and too many tragic tales about orphans and the mentally ill and the retarded being subjected to appalling cruelty and being treated like criminals.
Considering the amount of sadism and scandal that the Irish Catholic Church has dished out – and the fact that the Church hierarchy often cynically covered up these moral outrages, instead of ensuring that perpetrators were jailed and excommunicated –  who can blame its victims and their supporters for being less than delighted when the Pope showed up?
And yes, even though I am disgusted by prolonged massive betrayals of trust and by inhuman perverted hypocrites who claimed to be religious and yet were anything but God-fearing   – some were even guilty of murder or manslaughter – I also want to remember the positive side of my Church.
A friend sent me excerpts from  an article written by non-Catholic, Sam Miller,   – a prominent American Jewish businessman, I'm told.
Describing The Catholic Church as "one of the most important non-governmental institutions that we have today in the United States", he made the following points in its defence:
"Do you know – the Catholic Church educates 2.6 million students everyday at the cost to that Church of 10 billion dollars, and a savings on the other hand to the American taxpayer of 18 billion dollars. The graduates go on to graduate studies at the rate of 92%. The Church has 230 colleges and universities in the U.S. with an enrollment of 700,000 students.
"The Catholic Church has a non-profit hospital system of 637 hospitals, which account for hospital treatment of 1 out of every 5 people – not just Catholics – in the United States today. But the press is vindictive and trying to totally denigrate in every way the Catholic Church in this country. They have blamed the disease of pedophilia on the Catholic Church, which is as irresponsible as blaming adultery on the institution of marriage.
Let me give you some figures that Catholics should know and remember. For example, 12% of the 300 Protestant clergy surveyed admitted to sexual intercourse with a parishioner; 38% acknowledged other inappropriate sexual contact in a study by the United Methodist Church , 41.8% of clergy women reported unwanted sexual behavior; 17% of laywomen have been sexually harassed. Meanwhile, 1.7% of the Catholic clergy has been found guilty of pedophilia. Ten per cent of the Protestant ministers have been found guilty of pedophilia. This is not a Catholic problem.
"A study of American priests showed that most are happy in the priesthood and find it even better than they had expected, and that most, if given the choice, would choose to be priests again in face of all this obnoxious PR the church has been receiving.
"The Catholic Church is bleeding from self-inflicted wounds. The agony that Catholics have felt and suffered is not necessarily the fault of the Church."
 Suffering single mums
 Then Mr Miller addressed Catholics directly thus:
"You have been hurt by a small number of wayward priests that have probably been totally weeded out by now and a number of bishops who failed to act.
Walk with your shoulders high and your head higher…Be proud  that you're a Catholic."
Well I must confess that I don't feel proud at the moment because my head is full of sad images of dead "illegitimate" infants, suffering single mums and terrified little chaps being attacked by depraved clergymen.
But I appreciate my church's strengths and achievements and think it is fair to say that Catholicism's cup is soiled, but half-full rather than half-empty…and cracked but not broken.
Reader response
LAST week, I wondered why so many Nigerian VIPs are control freaks who only promote people they feel they can dominate forever.
I pointed out that no matter how sychophantic the protegee is initially, the average mentor's expectations are utterly unrealistic, given that history has shown us countless times that when protegees gain independent access to power, they rarely remain subservient to their masters and often viciously bite the hand that once fed them… either because the master is too overbearing and suffocating and/or because the ex-servant is an ungrateful prat who has been pretending all along to love the man who pushed him to the top!
Here is one of the many responses this article attracted from Vanguard readers:
On 2 Sep 2018, at 12:47, Ohwofasa Thompson Ighodje <[email protected]> wrote:
This issue is simply very interesting and important because it touches virtually every facet of our lives, not just politics. Ordinarily, it serves much better when a predecessor guides the successor in order to teach and build the latter on the job. This would help to forestall many unprofitable and disastrous mistakes that may cause huge losses in terms of human lives and properties.
So, the idea of mentoring becomes very imperative! However, if the said mentoring is intent upon a selfish contrivance that tend to promote the predecessor's personal ambition at the very expense of the church, state, company or country or any organisation, then we have to be honest with ourselves.
This attitude is very wrong and has contributed immensely to the issues that have disturbed our progress in Nigeria. The common trend is the situation where the erstwhile boss wants to continue controlling the current governor as if he's the candidate voted for and newly sworn in again!
Personality clashes become unavoidable, especially when the incumbent had stabilised and needs little or no assistance as the case may be. Also, when this influence is consequent upon the destabilisation of the state. This control freak should operate with caution. After all, the incumbent was deemed fit for the job before his subsequent selection.
We should grow up and avoid anything that can embarrass us in the future. We have to be very disciplined, always conscious of where our authority begins and ends as leaders and followers. True patriotism demands our love and loyalty to one another.
This human defect of habitual defrauding of our country is the bane of this control freak. This new generation must depart from that self-destructive past and move on up to a culture of continuous development founded upon love, loyalty and, of course, godliness.
Responses to: [email protected] or to 0802 747 6458 OR 0811 675 9752 (texts only). PLEASE KINDLY NOTE THAT UNLESS YOU REQUEST ANONYMITY, YOUR COMMENTS MAY BE PUBLISHED, WITH YOUR NAMES AND CONTACT DETAILS ATTACHED.