…A great inspiration to Borno's 50,000 children orphaned by Boko Haram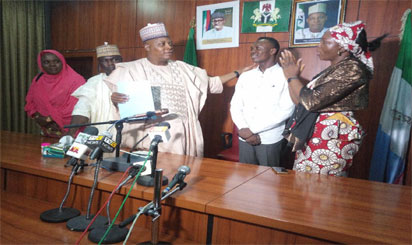 BY OCHEREOME NNANNA, Chairman, Editorial Board
Zakari Israel Galadima is an incredibly gifted young man. He recorded a rare feat that grabbed the headlines for so many justifiable reasons. He emerged as the highest performing candidate in the 2018 Unified Tertiary Matriculation Examination (UTME) organised by the Joint Admissions Matriculation Board (JAMB). A total number of 1,662,762 candidates sat for the exam this year (down from 1.7m in 2017). Zakari came top of this mega-class scoring 364 out the maximum 400 points. He also made nine Distinctions in his West African School Certificate Examinations (WASCE). The real news behind the feat is in the context of it.
Borno State fielded only 1,700 candidates for this year's UTME. Borno is 25th out of the 36 states and Federal Capital Territory (FCT), Abuja, in the number of JAMB candidates fielded. Zakari bested second placed Ogun State's Jesufemi Adekunle (358) and Edo State's Alikah Oseghale (357). Both Ogun and Edo belong to the traditional top ten educationally-advanced states of the Federation. This year, the number of candidates for the top ten states were as follows:
Anambra – 92,890; 2. Oyo – 86,695; 3. Osun – 86,044; 4. Ogun – 80,371; 5. Delta – 80,052; 6. Anambra – 72,747; 7. Edo – 66,437; 8. Kaduna – 65,881; 9. Kano – 64,723 and 10. Ondo – 63,894.
Definitely, Borno with only 1,700 candidates was a Lilliputian in the land of giants! But it was from out of the state that produced this tiny lot that an academic whiz kid and budding intellectual colossus sprang. However, Zakari lives with his banker mother in Lagos. So, he schooled in Lagos.
The main takeaway, so far therefore, is that God does not discriminate in planting geniuses (and fools) evenly among all the sections of mankind. Give education to the Northern youth and they will compete evenly with their peers from any other part of the Federation. "Educational disadvantage" has nothing to do with the inferiority of any section of humanity. It simply means that those put in positions to educate their young failed in their bounded duty!
Though an orphan who lost his father, a Major in the Army 14 years ago, Zakari Galadima is also an incredibly fortunate young man. Since JAMB was established in 1978 it has been conducting matriculation exams annually for admission of candidates to tertiary institutions in Nigeria. In its 40-year history, it has always produced highest performers every year. Zakari's good fortune kicked in because his achievement trended like wildfire in this fascinating Social Media age. But it was not the first to trend, neither was his feat the highest all-time record score.
In fact, in 2016, there was this unconfirmed story of one Ibrahim Shamfiwu, a "rare academic genius" from Kogi State who scored the highest all-time mark of 399/400 in that year's UTME (see more on this in the box story). Strangely enough, nothing was heard of any move made in any quarter to recognise and encourage him.
We live in a land where nothing excites leaders except matters that are of personal interest to them. One young Nigerian genius, Dr. Victor Olalusi, who in 2013, sored 5.0 Grade Point Average, GPA, (the highest possible mark in academics) in the Faculty of Clinical Sciences, Russian National Research Medical University, Moscow, was lucky to be invited by the Federal Ministry of Education where the then Permanent Secretary, Dr. Mac John Nwaobiala, announced a scholarship award for his unbelievable achievement.
But in Imo State, Governor Rochas Okorocha promised a piece of land and N2 million cash to Mr. Miracle Igbokwe the winner of the vain Big Brother Naija reality show in April this year. The Governor's main motive was that Miracle spoke well of his "free education" programme during the show! Many academic trailblazers have come and gone in Nigeria without a whimper let alone a bang. Some can't find jobs! But Zakari's case is different. He scored big at a time an educational czar, Kashim Shettima, was in charge in his home state, Borno as Governor.
Shettima himself came from a poor Maiduguri family. His father was a local Koranic teacher, and he is the first graduate in his family. He knows what education can do in changing the circumstances of a human being. After earning his Masters in Agricultural Economics at the University of Ibadan in 1991, he became lecturer at the University of Maiduguri before taking up a job in a bank. When Shettima found himself in the seat of Governor he felt challenged by the poor level of education not only in his state but also in the North East and the Northern Region as a whole. So, he introduced free and compulsory education and followed it up with massive construction of schools throughout his state.
However, the Boko Haram Islamist militants have done much to undo the little progress made to bring the youth of the North East out of ignorance. Their decade-old nihilist campaign which is specifically targeted against Western education has, according to United Nations Children's Fund (UNICEF) in February this year, led to the destruction of 1,400 schools, the death of over 40,000 citizens, displacement of millions and orphaning of over 50,000 children who roam unaccompanied and without links to their families! Kashim Shettima and Boko Haram are facing down each other from both sides of a drawn battle line, and Shettima as an agent of enlightenment is determined to win and bring his people out of the dark abyss of ignorance.
According to the Borno State Commissioner for Higher Education, Hon. Usman Jaha, "The Governor believes that one of the best ways of fighting the Boko Haram ideology is to heavily invest in free, compulsory, functional, productive and attractive education in Borno. Right now, the Governor's administration is building 40 brand-new mega-boarding primary and junior secondary schools, each of which is to accommodate 2,000 pupils". For the first time since the state's 42-year existence, Shettima has also established a university for the state.
Jaha made this assertion while handing in a cheque for five million naira scholarship to the Dean of Students of the Covenant University, Ota, Ogun State where Zakari has gained admission to study Engineering. The fund is an upfront payment for the five-year course, to take care of Zakari's tuition, accommodation, books and personal needs. Aware that he will be completing his tenure in less than one year from now, Governor Shettima decided to break with tradition of yearly instalments in the state's scholarship programmes because he does not want Zakari's educational pursuits to run into any kind of unseen storms.
Sources close to the Governor also disclosed that Shettima took this step as a further means of extending his hand of fellowship to the Christian community of the state, especially those from Southern Borno who over the years in the past were made not to have a sense of belonging. The Galadimas hail from Biu in Biu Local Government in the Southern Senatorial Zone of the state. It is one of the areas thoroughly shellacked by the Boko Haram insurgency.
Governor Shettima hosted Zakari and his mother, Mrs Jummai Galadima, at the Borno State Government House where the State's Chief Executive remarked he decide to pay the scholarship in bulk because he did not want the family to be shuttling between Lagos and Maiduguri to pursue any payments.
"She has done her part by raising a child with excellence, and that child has made Borno State very proud. It's our turn to support him…I am particular about Israel because he was raised as an orphan", he said.
Zakari, on his part, pledged to give back to the state when he is done with his education. Efforts to reach Mrs Galadima to give more insight into what it took to raise Zakari and his siblings without a father failed. After initially agreeing to grant us an interview she later called to announce a change of mind to avoid "undue exposure".
The mystery of "Ibrahim Shamwifu"
There is a rumour in the Social Media that one Ibrahim Shamwifu emerged with the all-time highest point in JAMB's 40-year history with 399 out of 400. In fact, The Cable online Newspaper on 4th March 2016, in a feature on this mystery genius, produced what looked like Shamwifu's personal details emblazoned on an alleged JAMB Provisional Result Notification form, which contained details such Shamwifu's name, gender, state, local government, school, registration number, exam number, exam centre and examination result.
However, the paper noted: "Attempts by The Cable to verify Shamwifu's result via the JAMB result portal was unsuccessful, as the automated response from the portal said the maximum possible number of checks had been exceeded in the case of the candidate".
Our own efforts to verify directly from JAMB's Head of Media, Dr. Fabian Benjamin, returned the following text message:
"It's not possible to score 399 in JAMB. So, it's not true".
It is safe to assume that the Shamwifu tale is a sham!