The Benue Chapter of All Progressive Congress (APC) on says it has adopted indirect primaries in selecting candidates for the 2019 general election.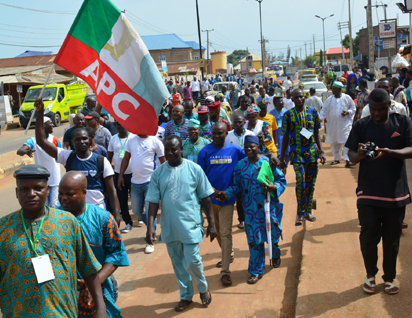 The decision was, however, rejected by a party stalwart from the Benue South Senatorial District, Mr Daniel Onjeh.
Onjeh, who is the Chairman, Governing Board of the Project Development Institute, said on Monday in Makurdi that some of them would prefer that Direct Primaries be used as the register of his Senatorial District were updated and were still intact.
He added that the indirect primary would be tasking and also involved a lot of money.
Onjeh spoke at the APC State Executive Committee (SEC) meeting on Sunday in Makurdi, where the decision was taken but suggestion was, however, ruled out immediately.
The APC State Chairman, Mr Abba Yaro, said after the meeting that direct primaries won't be possible in the state because of the absence of a comprehensive membership register.
Yaro added that the decision was reached after due consultation with the party's stakeholders in the state and National Executive Committee (NEC) of the party.
He said: "The Benue working committee wishes to state that the SEC has adopted the indirect primary mode of selecting the party's flag bearers.
"Direct primary method is not applicable in the state due to absence of a comprehensive register of party members."
Contributing the State Organising Secretary, Mr Mark Hanmation, added that the databases of party members were last audited in 2014.
"The APC Benue leadership has made spirited attempts to acquire a credible database of party members but all efforts have proved abortive.
"We have a very short time to start all over again.
"Without a credible membership register, any direct primary may be disrupted by non-members or even individuals from other parties who may come up with fake membership cards to cause confusion," he said.
He noted that the direct primary method would present significant logistics challenges for the party.
Hanmation said the decision will be appropriately communicated to the National Executive Committee of the party as required by law.
Party stalwarts and other stakeholders all passed a vote of confidence on President Muhammadu Buhari, the Party's National Chairman, Mr Adams Oshomole and Sen. George Akume.
They said Benue remained an APC party and would vote for President Buhari any day. (NAN)
Subscribe for latest Videos