By Chinonso Alozie
Owerri—One Chukwudi  Chukwu, a 28-year-old man from Okwu, and Bethel Ibeh, from Ugiri Ike, both of Ikeduru Local Government Area in Imo State, who allegedly stole a female corpse from Jesus Hospital Mortuary in Ikeduru, were, yesterday, paraded at Imo Police Command headquarters alongside 29 other suspects.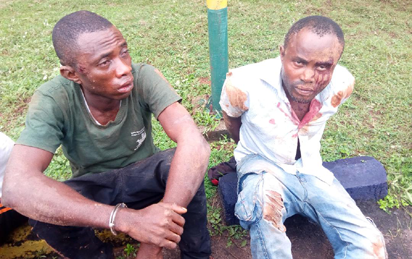 The suspects were said to have demanded a ransom of N5 million from the manager of the mortuary, Prince Charles Nwanshi, who reported the matter to the Police before they were arrested.
According to Nwanshi, "they broke into my mortuary and collected the corpse. One of them is my former staff. They asked me to give them N5 million, but I reported the matter to the Police.
"Today (yesterday), the Police arrested them and they took us to the forest where they buried the body and we exhumed it."
On the killing of a Catholic priest, a 33-year-old man, Chigozie Uzoukwu, and Peter Ochokwu, 21, from Owerri Nkworji in Nkwerre Local Government Area of the state, suspected to have killed Reverend Father Jude Egbom, were also paraded by the state Commissioner of Police, Dazuki Galadanchi.
Recall that Father Egbom was shot dead two days ago in a barber's shop in Nkwerre Local Government, after which the killers made away with his car.
According to Dazuki, "on September 11 at Owerri Nkwoji in Nkwerre council, Imo State, F-SARS operatives, led by CSP Godfrey Victor, acting on a tip-off, arrested two suspects in connection with the murder of Rev Fr Jude Egbom.
"The suspects are one Peter Ochokwu, 21, and Chigozie Uzoukwu, 33, of Umuibu in Owerre Nkworji Nkwerre Local Government Area.
"A black Toyota Corolla with number plates FKJ 984 EV, suspected to belong to the hoodlums, who robbed and murdered Father Egbom, was recovered.
"Interestingly, the second leg of the pair of shoes found in the abandoned car was found in the suspects' Toyota Corolla. Some of the property in the same suspect's car were found with one of the suspects in his house."