By Dirisu Yakubu
ABUJA – The Peoples Democratic Party (PDP) has said no amount of threats or smear campaign will make it buckle in its determination to contend with the All Progressives Congress (APC) and dismantle its rigging machinery in all future elections.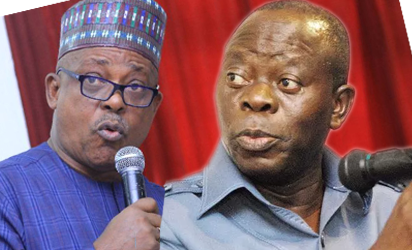 The party said the All Progressives Congress (APC) in its statement on Wednesday, has already admitted that it had been engaged in rigging of elections, sponsoring of violence, ballot snatching and announcing fake results in the elections conducted in the past three years.
Reacting to accusations of cloning the Permanent Voter Cards (PVCs), the PDP through its spokesman, Kola Ologbondiyan said, "It is a settled fact that though truth can be suppressed for a season, it will always have a way of showing itself to the light. The APC, in its own statement, has owned up to electoral contrivances and openly admitted that it blatantly rigged last Saturday's National Assembly bye-election where results were altered in its favour, ballot boxes were snatched, Nigerians were harassed, intimidated and even killed.
"The APC in its own words alluded to 'crude election rigging methods such as ballot snatching and announcement of concocted election results' which it confirmed as "recently displayed during last weekend bye-election in Kogi state", where it was illegally declared winner.
"We are happy that having called them out, the APC leaders, apart from admitting their guilt of electoral malfeasance, have demanded for a probe into our move to dismantle their rigging machine. We welcome this demand and further request that the probe should be done in the open, so that we can expose APC's rigging machine for the world to see.
"Such a probe will also provide the PDP our long awaited opportunity to expose the compromised Independent National Electoral Commission (INEC) officials, security agents and agencies as well as fake observers used by the APC to rig elections. The PDP will show evidence of how the APC deployed thugs to unleash violence; used security forces to intimidate, arrest and detain PDP supporters; the cancellation and alteration of results where PDP won, allocation of fake results for the APC and outright declaration of concocted results to suit the whims of APC," he said in a statement.
On the Osun state governorship election slated for September 22, 2018, the party vowed "Not to allow the APC to freely use its Ekiti and Edo rigging templates to manipulate the process to its favour. No amount of propaganda and distortion of our statement will deter the PDP from its stand to confront and resist the APC, head to head and ensure that only the will of the people prevail."