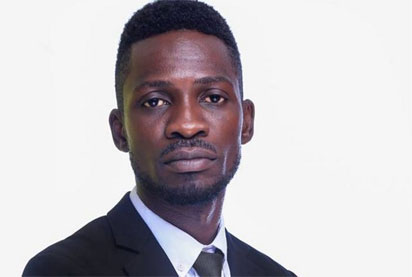 Uganda on Thursday filed treason charges against pop star-turned-MP Robert Kyagulanyi shortly after prosecutors dropped accusations of illegal weapons possession against him, in a case that has prompted an international outcry.
The Chief Magistrate Court in the northern town of Gulu ordered Kyagulanyi — stage name Bobi Wine — to be held in custody until August 30. He will appear alongside 34 others also charged with treason last week.
Earlier, a military court withdrew charges against Kyagulanyi for illegally possessing weapons, saying he was to face the more serious charge of treason in a civilian court.
Kyagulanyi was then taken to the magistrate's court where he appeared hobbling and with a scarf in the colours of the Ugandan flag around his neck.
"The charade, pretence and wanton abuse of Bobi's rights by the army has ended. Now we can embark on a civilian court to get justice," said Nicholas Opiyo, one of his lawyers.
Veteran Ugandan opposition leader, Kizza Besigye, was arrested by police in Kampala on Thursday to prevent him from joining protests against Kyagulanyi's detention.
– Torture accusations –
Kyagulanyi was first arrested last week while campaigning in a hard-fought by-election that also drew President Yoweri Museveni in support of the ruling party candidate.
During the campaign a crowd jeered Museveni's convoy and threw stones breaking his car window.
Afterwards, Kyagulanyi, 36, was arrested and charged with illegal possession of weapons and ammunition, an offence tried under military law in Uganda, while 34 others, including four MPs, were charged with treason
Kyagulanyi's lawyer and family have accused security forces of beating and torturing him while in detention, claims denied by the military.
The court in Gulu ordered that while remaining in custody Kyagulanyi must be allowed access to private medical care.
The 36 year-old, who entered politics last year, is fast becoming a lightning rod for youthful opposition to the long rule of Museveni, 74, who seized power in 1986 as the head of a rebel army.
His arrest has attracted an unusual amount of attention and sparked protests in Uganda and abroad.
On Thursday, supporters gathered in Nairobi, London, Tokyo and Washington to show their support.
Meanwhile, close to a hundred musicians, artists, activists and politicians this week signed an open letter condemning his treatment.
Signatories included Chris Martin, Angelique Kidjo, Chrissie Hynde and Damon Albarn, writer Wole Soyinka and the deputy leader of Britain's opposition Labour Party, Tom Watson.
AFP