…says the right artists were not contracted to do the job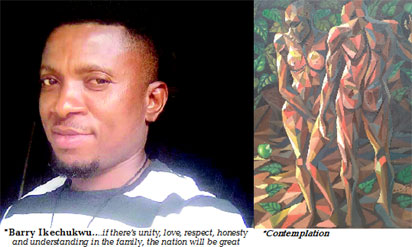 By Prisca Sam-Duru
Nzennaya Barry Ikechukwu is a Fine Art teacher and full time studio artist. He studied Fine and Applied Arts and graduated from the Federal Polytechnic, Oko, in Anambra State as the best painting student with distinction in 2010. As an artist, he loves his expression to have no bounds, but was fascinated by the use of shapes and how they interact in creating forms and being used in the expression of his imaginative prowess. Barry was mentored by one of the most prolific Nigerian horse painters, Abdulsalam Abdulkareem, but was greatly influenced by the works of the great Yusuf Grillo, Sam Ebohon and Donald Onuoha. In this exclusive encounter, Barry shares how it all began and the journey so far.
Tell us about your journey into visual art..
Actually when I was growing up, there was no orientation for me but I had the instinct in me that I can draw, that is I had artistic trait in me. I remember when I was in Primary three and I used to design on my textbooks. There was no fine art in our school curriculum, no encouragement. So, I was just drawing subconsciously. On getting home, I received serious flogging from my parents for drawing on my textbooks. To make matters worse, an uncle who was supporting my education advised me to stop drawing and face my studies. So I decided I would become an economist but like we say, man proposes and God disposes. So in 2005, while trading in Aspamda, I saw a painting by a student from Lagos State Polytechnic and that inspired me to know that I could actually study fine arts in school. I got admission into Federal Polytechnic, Oko. Upon completion of NYSC in 2012, I went to Abdulsalam Studio and since then, art has been an adventure for me.
What are the sources of your inspiration?
I draw inspiration from life. Waking up everyday gives me strength to paint. It makes me think deeper because I do a lot of conceptual paintings, things that entail a lot of magnetic works. I like to do things on shapes, manipulative things, things that deal with creativity. But my kind of art has no bounds, as in expression. I don't see myself being limited to a particular kind of painting.
Music is also part of my inspiration. I love country music a lot.  It makes me create better. If you take music out of me, you take a little bit painting out of me.
What are the messages in your works?
One of my paintings auctioned at the recent Terra Kulture and My Dream Gallery (TKMG) is titled: Contemplation. It's a depiction of two images, man and woman. People regard it as Adam and Eve but my message in the work is on divorce and family issues. I believe charity begins at home. I believe the problems of our country have roots in the home. It has to do with the way children are trained and how parents react to issues. This takes me back to the Garden of Eden and all that transpired there. So I feel if there's unity, love, respect, honesty and understanding in the family, the nation will be great. That's the kind of messages I send across to my audience.
What are your specific reasons for being at TKMG?
As an artist, it is necessary to showcase my works. If I just lock myself up in the studio, imagine and create things and do not show them to the world, then the message is not complete. It's just like the gospel; if it is not preached, then how will the world know about it?
Was that your first time at TKMG auction?
Yes, it was my first time. And I'm happy that the works, Contemplation and Forecasters were sold. I expect that the auction would open up more doors for me and for arts generally so that the government as well as corporate establishments and individuals will see reasons to invest in the sector.
Would it be correct to say that people are okay with upcoming artists' level of creativity considering how they fare at auctions?
I think these days the acceptance of upcoming artists is encouraging. But I also think that young artists need to put in all their efforts. They need to do exceptional things, think outside the box and nothing can hold them back.
What is your view on the state of the industry as a whole?
The industry is growing but I'll not say I'm okay with the way it is. I expect it to improve more.
In what ways do you mean?
We need funding and for government to take the sector more seriously. The government is helping in one way. Look at the monuments, sculptural piece that Lagos State is approving. It shows that government is willing to help visual arts. But then it's unfortunate that the people that would have done the work better we're not contracted. These are monuments that would stay for long and also boost tourism, so they needed to have been done better. I know it's a system problem.
Did you have any challenge that threatened your dream?
As I said, art is a serious adventure for me. It's not easy for a student from the East to come to Lagos and start practising art. I passed through serious challenges. I suffered hunger at the beginning. Things were more than tough and it took me like five  years before I began to find my feet. But all that added improvement to my works. Access to funds is a major challenge to young artists. If getting loans are easy, they will do better. We also need something like an open studio, that's a craft centre that accommodates every artist.
What are your future plans?
I should be an international artist, exhibiting all over the world, touring the globe and waving the flag of the country is top priority. I want to be a public artist with a large studio because right now, I have some students I'm training in Abdulsalam Studio just like Universal Studio of Arts.