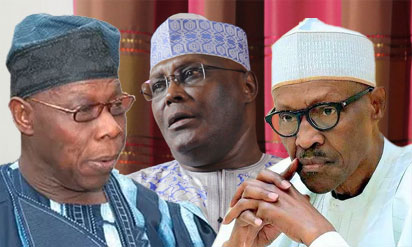 By Donu Kogbara
The other day, I was discussing the Nigerian political scene with some friends. We mostly talked about the challenges faced by the Peoples Democratic Party, PDP, the main Opposition group…and about the many PDP stablemates who are hoping to snatch electoral victory from President Muhammadu Buhari next year.
We focused, one by one, on the strengths and weaknesses of individuals who have either already declared an interest or are widely regarded as being very interested – Atiku, Tambuwal, Kwankwanso, Saraki, Lamido, Dankwambo, etc.
Then someone dropped a bombshell and told us that he had inside information about the way PDP mandarins are thinking at the moment and that:
"Almost all of the big boys who are controlling PDP at the moment believe that Atiku is the strongest aspirant; and some are rooting for him; but there are others who don't want Atiku to be the flagbearer because he is a former Vice President and very senior to them; and these anti-Atiku guys fear that they won't be able to control him if he wins and becomes Head of State."
The above statement may be a total slanderous lie. But I won't be surprised if it is true because I have noticed, while observing and communicating with leading politicians at close quarters for the past 30 years or so, that many are fanatical and overbearing control freaks who are unhealthily obsessed with teleguiding anyone they have supported or nominated to any position.
I call this desire to stay in charge forever THE CONTROLLABILITY FANTASY because time and time again, we have seen that it is unrealistic to imagine that you can dominate someone once he or she has acquired power.
This is why ex-Governors almost always have spectacular fallouts with successors they carefully hand-picked, in the mistaken belief that these protegees and beneficiaries of patronage would be eternally grateful.
This, if you ask me, is why Baba Obasanjo was not happy with Yar'Adua or Jonathan – whom he anointed and practically appointed. This, if you ask me, is why Baba Obasanjo is furious with Buhari, whom he publicly endorsed.
I once confronted a Governor, who shall remain nameless because he was my beloved late father's pal and I don't want to disgrace him!
Anyway, this Governor had just given a lazy near-illiterate who had a dodgy reputation and possessed no social graces a top job; and I was outraged by what I figured was a massive misjudgement and asked His Excellency why he couldn't have selected someone who was more worthy of the position.
"The person I chose is indeed a bush man and not educated, respected or hard-working, so I totally understand your distress and disapproval," he said smiling smoothly. "But my experience has been that, in politics at least, the so-called better people tend to be cocky and perfidious and are likely to betray their mentors."
He was so sure that he was right to feel safer with inadequates; but I pointed out that there are no hard and fast rules in the complex game that is Life…and that it's even possible that 'so-called better people' who don't need you desperately will be more loyal than those who depend on you for everything they have, initially at least, and may therefore only be pretending to like you.
His Excellency scoffed when I made this point, so I gave up and moved on. But I'll be amazed if he didn't later regret his policy because almost every low-life he promoted in his heyday turned on him when he ceased to be useful.
Nigeria is rife with tales about folks who bite the hands that fed them; and the bottom line is that whether you choose to promote low-life types or high-life types, it is very rare for a master to forever control a servant or junior once the underling has found his wings and learned to fly on his own!
Even if one of the less lofty PDP aspirants winds up being President, he will quickly understand how important he is compared to everyone else; and the party faithful who thought they could control him will be pushed aside.
So they might as well go for a big fry who can actually beat Buhari, instead of going for a smaller fry because of irrational controllability fantasies!
I am not saying that Atiku is definitely more electable than a smaller fry. I am just saying that everyone becomes a largely autonomous big fry once they enter the Presidential Villa or Government House or The Ministry or Wherever. Let's wait and see what happens.
The British could try harder!
I like Theresa May, the British Prime Minister. She makes mistakes, as we all do; but she is essentially respectable and reliable.
Mrs May is the daughter of an Anglican vicar who comes from a jolly decent home; and it shows. And I wish her well in her marathon struggle to negotiate her way through murky, treacherous Brexit waters.
It's not her fault that the more short-sighted British voters opted to leave the European Union; and one can only pray that the poor woman – who did not campaign for Brexit – doesn't get blamed if things go pear-shaped.
So, yes, Mrs May is a good egg who deserves to succeed.
However, I am not impressed by her flying one-day visit to Nigeria. The British Government is always earnestly insisting that it wants to beef up its relationship with Africa. But it needs to invest more time, energy and emotions in the Giant of Africa if it is serious about achieving this objective!
Mrs May should have stayed for three days, visited the North-East zone that has been devastated by Boko Haram, met some of the Chibok girls who have been released and hugged a few babies in an Internally Displaced Persons' camp.
Then she should – a la Mark Zuckerburg of Facebook – hung out for a couple of hours with tech-savvy youngsters in Lagos.
I would also have been delighted to see her attending a glittering gala night in Abuja for womens' groups…she is, after all, one of the female icons of our era.
Britain had a huge headstart within a Nigerian context because it was the largely benign colonial power that once ran Nigeria. Losing that headstart is the height of incompetence!
We speak English. Most Nigerians who study abroad study in the UK. We have a natural affinity with the Brits; and Britain has no excuse for allowing itself to be overtaken by other nations like China and France, which is exactly what is happening.
Responses to: [email protected] or to 0802 747 6458 OR 0811 675 9752 (texts only). PLEASE KINDLY NOTE THAT UNLESS YOU REQUEST ANONYMITY, YOUR COMMENTS MAY BE PUBLISHED, WITH YOUR NAMES AND CONTACT DETAILS ATTACHED.