By Richard Akinnola
I feel thoroughly embarrassed that those who should know, by virtue of their intelligence, could fall for this jejune and puerile conjectures that the sacked DSS boss, Lawal Daura was working for Saraki for him to have sent his operatives to storm the National Assembly yesterday.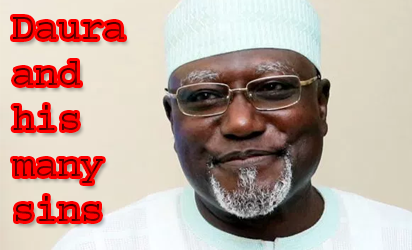 For all l care, Saraki could be removed, it's none of my business. But this line of thought is so cheap, because l am familiar with the source of this spin. Instead of latching on the commendable step taken by the presidency in not only condemning the siege but also removing Daura, they started this infantile spins.
And to think that the same people who were justifying the siege at the early hours of the operation, are now the same people spinning this funny story is unfortunate.
If you are familiar with the Saraki-must go-plot, you won't be surprised that APC Senators were not around during the siege. From my own investigation, the plot was to prevent the PDP guys from entering and after they would have left, the APC Senators would get in and perfect the plan.
But unfortunately, the PDP guys, who must have gotten wind of the plans refused to leave. Don't also forget that in political intrigues, people send moles to the opposing camps. Some of those who were in the anti-Saraki meeting   that midnight where the plans were being perfected, could also be Saraki moles.
The same thing happened on June 3, 2015 when Saraki emerged as Senate president. The bulk of APC Senators were at the International Conference Centre for a meeting on the issue of who would be chosen as Senate president, when Saraki and his supporters outsmarted them by sleeping at the National Assembly premises, then moved to the Chambers to elect him as Senate president, which became the genesis of this current crisis.
When Daura became the stumbling block to the confirmation of Magu as EFCC   Chairman, even after the president had cleared Magu, was that a Saraki/Daura conspiracy?
When Daura shielded pension suspect, Abdulraheed Maina, was he also working for Saraki? When the DSS operatives on October 6, 2016 broke into judges quarters in a dawn operation (in what ordinarily should have been an EFCC operation which could have been done more professionally) and in the process mismanaged vital evidence, was it a Daura/Saraki   conspiracy?
When he wrongly advised the government not to release Dasuki and Elzakzaky despite court orders, was that also a Daura/Saraki conspiracy?
It's just unfortunate that those spinning this cheap stuff are ascribing a larger-than-life image to Saraki. They are making him the most unlikely hero, the way Nnamdi Kanu's situation was similarly mismanaged and elevated the guy into a hero.
So, people should stop insulting our sensibilities with such cheap conspiracy theories. Rather, we should praise the acting president/president for acting rightly in a situation that brought our country into international opprobrium.
EFCC
In 2008, l published a book – THE POLITICS OF CORRUPTION AND THE CORRUPTION OF POLITICS, which dealt with how Nuhu Ribadu politicised the anti-corruption war in the run-up to the 2007 elections. Unfortunately, Magu is toeing same line as we approach another election. Perception, in most cases, is stronger than reality. The EFCC did not freeze Benue state government account till Governor Ortom defected to the opposition party. Now that Akpabio has defected to another party, the EFCC is now freezing the account of Akwa Ibom State government.   How is the agency going to defend itself that it was not out on political vendetta even if there are legitimate grounds to take such action? Perception is everything.
Remembering Rafindadi
On October 8, 2016, l cautioned the sacked Director of DSS, Daura that if he was not careful, he would eventually be given the Rafindadi treatment, because he was trudging the path of Rafindadi.   Ambassador Rafindadi was the Director of NSO   (precursor of DSS) when Buhari was the Head of State in 1984/1985, when there were series of human rights abuses. When IBB took over, Rafindadi was not only sacked but was paraded before the press like a common criminal. I have always cautioned those holding top government offices who get inebriated   with power, that there is always a tomorrow.
Major Hamza Al Mustapha was the most powerful person in Abacha junta. Even Generals genuflected   before him. He would never have imagined that he would one day enter the black Maria, talk less be in prison for 14 years. Same with the almighty Lt-General Ishaya Bamaiyi, a former Chief of Army Staff.   The cheer leaders who validate your flagrant abuse of power would not be there when you face the music. All those validating the illegal actions of Daura   are today in their homes but Daura is "somewhere." If you don't learn from history, you become part of history and we are here to chronicle   you misdeeds.
Subscribe for latest Videos