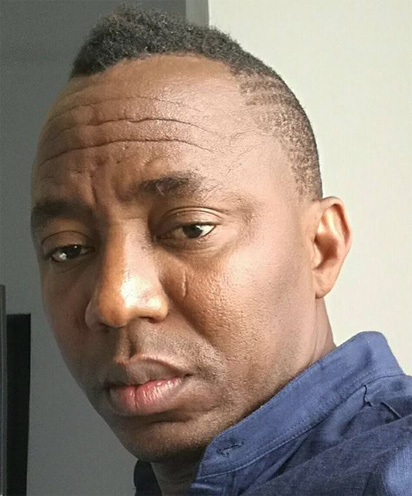 By Obi Nwakanma
The gale of defections between the All Peoples Congress (APC) and the Peoples Democratic Party (PDP) in recent times indicate, or ought to highlight for Nigerians, that these two parties are tweedle dee and tweedle dum, and together, they make Nigeria walk higgledy piggledy. They essentially mirror each other. They represent that agglomeration of hacks that boldly took charge of ground operations in Nigeria, while "high-minded" Nigerians were still busy wondering whether or not to trust the process, and take full part in the transition to power in Nigeria in 1999.
By the time Nigerians woke up to its reality, power was in the hands of louts, sharpers and con artists, and many criminal types with forged certificates from Toronto and Chicago who now sit astride power and have shaped Nigeria in their images in the nearly twenty years since the so-called transition to democracy. That political transition was, quite frankly viewed by many as a political fraud, supervised by nervous and compromised Generals who had been forced by civil agitation and international pressure to cede the symbolic reins of power. Many Nigerians thought that the first one term will be the real transitional period when experienced, and well-organized politicians would enter the field and change the course of Nigerian politics. But take a look, dear Nigerians, and you will see that in this recent drama of "carpet crossings" is the menace of the poverty of ideas that have since characterized that transition, and defined Nigeria's political landscape since the return of organized party politics. Perhaps it was all the result of the hurried and mediated process of 1999, because it is very clear that the old Generals are still in charge.
They may have removed the tunics, and replaced it with clothes from civvies streets. But the face of Nigerian politics still carry their images. They are still the secret hands that rock the infant cradle of Nigerian party politics since 1999, and are still ruling the roost using select proxies whom they have mentored, sponsored, and positioned to secure their own interest. It is still Obasanjo – Buhari – Babangida – AbdulSalami and Danjuma – and to an extent, Yar Ardua from the grave – and their cohorts that continue to call the shots from their hidden and not so hidden sites.
These are the men who amassed the kind of resources so enormous that they could single-handedly fund the political process, including elections, either directly or by proxy. And they have played the grand politics of self-interest very well. They have stage-managed quarrels between them, yet there is none for whom Nigeria's survival as it is currently designed benefits more than these individuals. They are like those ancient Roman consuls up to Pompeii. Let me not over dramatize it. But there is very clearly a connection between them, and they have been stringing Nigerians along, toying with them, and staging elaborate dramas of power. The other day, Dr. Abubakar Bukola Saraki went to see Obasanjo. Before him Atiku went. In the same week Dankwabo found his way to Minna. Just before he defected to the APC, the PDP minority whip, Akpabio went to see Buhari who is currently president in London. No one, among the original political class, those sacked by the military on December 31, 1983, has the kind of clout or the resources of these ex-soldiers. Dr. Alex Ekwueme was properly kept in his place. In any case, they too were played out in the power games of 1999 when the soldiers installed their former commander-in-chief as the new president.
As a matter of fact, what happened in 1998/9 was the triumph of Nigeria's Cohortes Praetorianae – the Praetorian guard – over its political masters whom it was originally designed to guard. They had tasted power, and were already mired in the muck of it. And down the line, when he was forced to rethink his "third term" ambition, and because Obasanjo knew that Dr. Peter Odili could have staged a different kind of political game, he subverted his rise to the presidency, and brought out a politically inexperienced and almost naïve Goodluck Jonathan, who was not only as gentle as a lamb, but did not have the gumption to lop off a head if it required it. He matched him with a sick Umar Yar Ardua. Umar was a good man, and could have shifted the dynamics of Nigerian politics.
But he was hobbled by ill-health. When Yar Ardua died, and Jonathan took office, and attempted to grow some balls, and isolated Obasanjo as a result, Obasanjo and the "third force" of power, that organized "Deep state" that often acts as the state within a state, in ways that seem straight out of Chris Mullin's thriller, A Very British Coup, ousted him, and handed the power to Buhari, another figure of this "deep state." That is the challenge of Nigeria's politics – to unmask the actors behind this "deep state" inside a very dark web. It is a relay between these powerful Generals and whomsoever they anoint to secure their interests.
Today Nigerians have forgotten their old grouse against the Generals who actually plundered the state, and stole its commonwealth. We have moved from the prospect of investigating and sanctioning those who corrupted Nigeria under military rule, to fighting ourselves as Nigerians, and slapping the new badge of "corruption" on Jonathan, and thus conveniently forgetting the past. The condition of the Plebian is that they have no memory and they preserve nothing. They combust at the flick of every match. The organizers of power in Nigeria know this. They use religion and ethnicity to distract common folk. They created parties that refract each other. The Parties – PDP and APC – are straight out of the same rule book. They sound the same. They feel the same. Yes, PDP was a "den of thieves and killers." When APC took the power the thieves and the killers moved their den to the APC. That's how this works. That is why I am excited by the prospects of the young voices I'm hearing right now, challenging the political order.
I hope Nigerians are paying attention. I am talking about Omoyole Sowore, the 47-years old publisher of Sahara Reporters, and Chike Ukaegbu, the 35-years old Nigerian entrepreneur running for president, and whose moves have received serious play on international media like the BBC and CNN, but hardly so in Nigeria. I say, I hope Nigerians are paying attention, because these are very exciting young men, and both remind me strikingly of the young Nnamdi Azikiwe, and his thesis of a "renascent Africa." Like him or not, there is a charisma around Sowore that is infectious. This young man first came to my attention, sometime in 1995 or thereabouts, when he came with the young Maiyegun as part of the University of Lagos Students Union leadership to Sunday Vanguard, and Fola Arogundade and I debriefed them.
The next time I ran into him was in New York, when my wife Mira and I visited Amy Goodman at the Pacifica Radio, and she said, "O, there's a young man you must meet," and it turned out to be Sowore, who at that time was in Columbia. I have followed his rise in journalism and public advocacy, and he speaks in the very language, and with the very passion of the new generation. There are those who have tied him to Tinubu and the APC, and their slush funds. But I sat listening to him marshal out his cardinal principles for seeking power on Channels TV. He's talking about education, jobs, and a technology-driven economy that will unlock the vast and recondite talent of the Nigerian youth.
It is bold and visionary. He is making the right noises and building a grassroots coalition, speaking directly to Nigerians across many divides, and across the country, in town-hall style meetings. He is working straight out of Azikiwe's playbook of 1944, and I do advise him to go and read up on Zik and his movement, and how he created the most powerful nationalist coalition from the moribund politics of the interwar years in West Africa. That's the future. And same goes for young Chike Ukaegbu – equally bright, articulate, and charismatic. He too speaks in the language of the new age – the necessity for what he calls "three pillars" on which he is running: "Education, Technology and Entepreneurship" https://twitter.com/cnn/status/1015371313505099776?lang=en . These young are not talking about sharing pumpkins; they agree on the same cardinal principles.
Let's hope they agree on the same methods, because either of these two bold young men will make a better president than the "analogue" figures that currently populate scene. It is about time Nigerians paid attention to their youth. Better still it is about time the youth of this country, those whom Zik called the "new Africans" rise and take charge of their own destinies, because they have the numbers, and the energy. Let's put the wind behind their sails, to create a youth wave that could propel either Sowore or Ukaegbu to the presidency because today belongs to them and not to the Generals and their proxies running the "deep state." I hope Nigerians are listening.