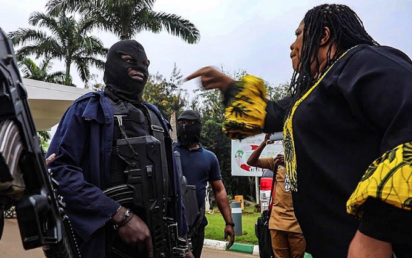 Last Tuesday's disgraceful, surreal and frightening assault on the National Assembly by heavily armed and sinisterly masked SSS operatives will never be forgotten.
Many of us will also never, EVER forget Honourable Boma Goodhead, a feisty female member of the House of Representatives, who was filmed fearlessly and furiously confronting the gun-toting security guys who were barricading the National Assembly and illegally preventing her from entering her place of work.
Brave Boma wasn't ready to cower or whingeingly and impotently wring her hands on the sidelines of the drama. She displayed more courage than most of her male colleagues and dared the menacing men in black balaclavas to shoot her, then pointed out that if ex-President Goodluck Jonathan had behaved similarly, current President Muhammadu Buhari would never have become head of state.
The video of this confrontation has gone viral and I'm very proud to say that I know Brave Boma, a fellow Rivers woman whom I regard as a junior sister. Brave Boma is the darling daughter of the distinguished late Justice Melford Dokubo Goodhead, who was Director of Public Prosecutions in our state for over 20 years before he became a judge.
Brave Boma also happens to be the beloved sibling of my friend and favourite Niger Deltan Activist, Alhaji Mujahid Dokubo Asari (known as Melford Dokubo Junior until he decided to convert to Islam, for reasons best known to himself).
And I think it is fair to say that Brave Boma is, in addition to being blood-linked to famous men, quite simply a Great Girl and Amazing Amazon in her own right!!!
I hope that she continues to forcefully impact on the public stage in a good way…and shame male counterparts who lack the courage she has displayed.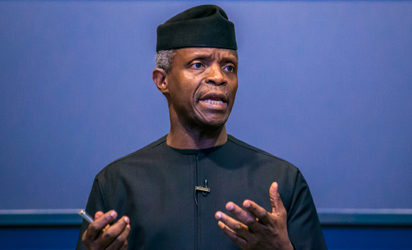 APC will definitely lose at this rate!
I'm not alone in strongly suspecting that the now-sacked SSS Director-General, Lawal Daura, would not have had the liver to pull such a stunt if he hadn't received a green light from the Oga at the Top or someone very close to him.
I personally think that Buhari knew what Daura was plotting and only allowed our highly amiable and able Vice President, Professor Yemi Osinbajo, to sack Daura when the plan went horribly wrong…as in failing to achieve the objective of unseating Senate President Dr Bukola Saraki and attracting humiliating   widespread condemnation from the general public and international community.
MANY people I've spoken to share my views; and even if we are being unfair to Mr President – as in even if Mr President did not actually tell Daura to barricade the National Assembly or even know in advance that barricading was imminent – I have never believed in totally blaming mere sidekicks for major screw-ups for which The Boss is ultimately at least partially responsible.
I can't remember who said that the buck always stops on the Number One's desk within ANY context. But a truer word was never said, if you ask me; and the Bottom Line is that most subordinates act on their superiors' instructions OR body language; and I very much doubt that Daura would have embarked on such a risky, undemocratic and controversial exercise without any overt or subliminal encouragement from the man who appointed him to such a prestigious position AND also happens to be his fellow Katsina indigene and brethren.
Whatever the truth may be regarding Daura's motivation and approvals, the ruling APC has lost so much credibility in the past few months; and Buhari – who comes across as weak/ageing at best and sectional at worst – will definitely be unceremoniously ejected from Aso Villa in 2019 unless a miracle occurs between now and when Nigerians go to the polls.
Rumour has it that APC mandarins intend to use "Federal Might" – via the police, army, Electoral Commission, etc – to force themselves on rebellious constituencies that aren't ready to slavishly toe the line and accept Buhari's insistence that he is the best thing that ever happened to this country.
But I will be immensely surprised if the majority of Nigerians – especially in the South-South or South-East – allow themselves to be intimidated.
One can only wonder who is advising this Buhari administration as it relentlessly and suicidally alienates more and more voters with each passing day.
This administration's attempts to mess up Ortom, the Governor of Benue State, are backfiring badly. Ditto its ridiculous attempts to assure all and sundry that Bukola Saraki is linked to bank robberies in Kwara, his home state.
Meanwhile, Adams Oshiomhole, the new APC Chairman, is aggressively outspoken to the point of being downright rude to folks he should be trying to reconcile with on behalf of an ailing party that currently needs all the help it can get; and I don't think it is unreasonable to describe him as a disaster waiting to happen.
Meanwhile, kudos to Vice President, LAW Professor and PASTOR Yemi Osinbajo, a class act who remembered his legal roots, his intellectual roots, his Polite Society roots, his pedigree and his religious roots…and flatly refused to tolerate rubbish. When he fired Daura, all right-thinking compatriots cheered.
For me, its not about APC or PDP. I have friends and enemies in both parties and have decided to throw my small weight behind individuals rather than groups.
As far as I am concerned, the previous Jonathan administration was also not impressive, so I am tired but still a bit hopeful and begging God as follows:-
Can we please, Dear Almighty, have a halfway decent government SOON?!