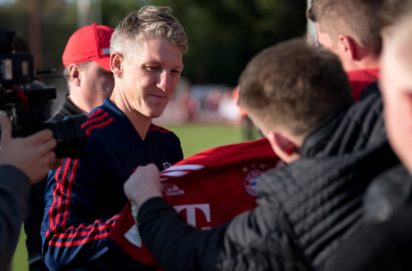 Bastian Schweinsteiger expects to shed a few tears on Tuesday on his final Bayern Munich appearance during his testimonial against current club Chicago Fire.
The 34-year-old former Germany captain will play a half each for Bayern and Chicago at the Allianz Arena (1830 GMT).
It will be his farewell appearance in Munich, having quit his childhood club for Manchester United in 2015 after 17 years and a total of 20 titles with Bayern.
Schweinsteiger wept when he received a standing ovation on his 121st and final appearance for Germany in a 2-0 friendly win over Finland two years ago in Moenchengladbach.
More tears are to be expected in Munich on Tuesday.
"I somewhat underestimated that when I retired from the national team," admitted Schweinsteiger on his return to Munich.
"I felt lots of emotions, you have so many images in your head and let yourself be led by that.
"There are already so many memories coming back up.
"It was a great time, Bayern is always in my heart, but I know it'll be emotional for me."
It was obvious from the huge smile on his face at Bayern's training ground that he is enjoying being back in Munich.
On Sunday, he was awarded the Bavarian Order of Merit at a civil ceremony, where Bavarian Prime Minister Markus Soeder described the 2014 World Cup winner as a 'living legend'.
"I'm overwhelmed, I accept the medal on behalf of all Bayern fans – many of whom deserve this," said Schweinsteiger humbly.
The football star from the Upper Bavarian town of Kolbermoor, near the border with Austria, said he missed his homeland.
"Friends and family, the mountains – and the Kaiserschmarrn (a Bavarian dessert)," are the things he misses most living in Chicago with his wife, former tennis star Ana Ivanovic, and their baby son.
Schweinsteiger made more than 500 appearances for Bayern, who he joined as a 13-year-old.
His last home appearance in the famous red shirt was when he scored in a 2-0 win against Mainz in May 2015, before moving to United two months later, and he has not been back to the Allianz Arena since.
"At the time, I did not have the chance to say goodbye, so I'm very grateful that FC Bayern are giving me a farewell match," he said.
"It's great to be back here.
"There's a real feeling of being at home in Munich and seeing the people in the city again."
His popularity has its price and Schweinsteiger can not walk the streets of Munich "without a cap and sunglasses", unlike in Chicago where his wife "is recognised more than me – she's a bit prettier too," he added with a grin.
Despite recent results — Chicago sit second from bottom in the Eastern Conference of the North American MLS league — Schweinsteiger is enjoying playing in the States.
"I feel good physically, it's fun to drive to training each day and I play every game," he said and hopes to play another few seasons for Fire, who he joined in 2017 after 18 months at Old Trafford.
"I'll take things from year to year."
AFP
Subscribe for latest Videos