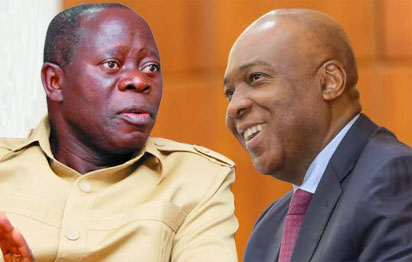 By Donu Kogbara
Last week, I publicly expressed a view that has been privately expressed by most of the people I have spoken to in recent weeks, including (surprisingly perhaps) some members of the ruling All Progressives Congress party, APC.
The view I expressed can be summarised thus: Some key APC mandarins are pursuing a ridiculously short-sighted and counter-productive strategy, in the sense that they are so obsessed with punishing Bukola Saraki, the President of the Senate, that they are making fools of themselves and have succeeded only in driving Saraki into the arms of the Opposition and making him more popular.
We all know the story: Saraki, the super-smart and super-privileged son of a super-successful father who was the King of Kwara State in all but name, has a strong sense of entitlement and finds it hard to take no for an answer, so ignored the preferences of his seniors and manoevred himself into the Senate Presidency at a time when President Muhammadu Buhari wanted someone else to get the job.
Needless to say, purse-lipped Elders and diehard Buharists didn't find Saraki's rebellion remotely amusing and set out to discipline the cheeky youngish pup.
But Saraki is, though cherubic facially, as hard as nails and not easy to quell or eject. Which is why he is still the master of the National Assembly after countless high-level attacks, nearly four years after he humiliated those who felt that they and they alone should decide who our Number Three Citizen should be.
His enemies should, in my opinion, have patched up their quarrel with him a long time ago and turned him into an ally. But the likes of Comrade Adams Oshiomhole, the APC's Chairman, have refused to let go of their rage.
Many Vanguard readers have contacted me to heap insults on Oshiomhole or praise Saraki. Not one has expressed approval of the harassment of Saraki:
2348173222178 Anonymous 
Oshiomhole is bereft of modern ideas of governance just as the APC is suffering from  democratic ignorance. We have seen what the people of Edo State went through for four years when he was Governor.
234803674360 Annonymous 
Saraki…is a well-educated and home-grown gentleman who is trying to preserve the rule of law and democracy 
2348036704360 
Dear Donu, your write-up on Oshiomhole and Saraki is a masterpiece and well appreciated for telling Nigerians the home truth. Oshiomhole should be told that the Senate is not a parastatal or a limited liability company. He should be restrained at all costs from forcefully removing Saraki. We should not allow him to plunge this country into a state of anarchy. Those beating the drum of war do not know who it may consume. I hope the authorities and law enforcement agencies know that it takes two third majority to legally remove the Senate President.
2349055482591 Kingeorge 
I am for APC, PDP and any other party, when it comes to development, peace and progress. But please tell Adams Oshiomhole that he is one of the people the youths of this country will not forgive  if our long-desired democracy is truncated. Let him leave Saraki alone to contribute to his country.
2348037275839 Pius 
You said that Saraki's enemies should give up and move on. The day Oshiomhole  took over leadership of APC was the day the party died. Lots of Nigerians  and people from Edo hate him so much and a lot of people may leave APC for him and Buhari before the end of this year.  
2348066615156 Emma
As you said: Give up and move on. Apt, concise and good reasoning.   Kudos!
2348066865871 Tony Oshogwemoh 
I can't exactly describe'it. You are very good. May your pen never dry up. I must read your column. God bless you. I am 71 years old.
These are the milder messages. Some were so virulently anti-Oshiomhole and so extremely (and unnecessarily) abusive that I decided not to publish them.
The APC is not exactly the flavour of the year; and if Oshiomhole wants to improve his party's chances, he should think about forgetting about taking pot shots at the Senate President and finding more crowd-pleasing, vote-attracting things to do with his time between now and the elections.
Crazy numbers!
Earlier on this week, we were told that over 250 aides of Aminu Waziri Tambuwal, the Governor of Sokoto State who recently decamped from APC to PDP, had decided to resign because they didn't share his faith in the PDP.
Then we were told that another batch of aides and political appointees – 400 to be precise – were following Tambuwal into PDP.
While disagreements rage regarding whether the first group jumped or were pushed, the thoughts and question I can't get out of my head are as follows:
I know that governors are genuinely busy. But how can ANYONE justify the employment of so many hundreds of office-holders, especially in a state that is not famed for being an affluent, productive economic powerhouse?
If so many people have been "chopping" from the state government, what is left over for the suffering masses?
Responses to: [email protected] or to 0802 747 6458 OR 0811 675 9752 (texts only). PLEASE KINDLY NOTE THAT UNLESS YOU REQUEST ANONYMITY, YOUR COMMENTS MAY BE PUBLISHED, WITH YOUR NAMES AND CONTACT DETAILS ATTACHED.