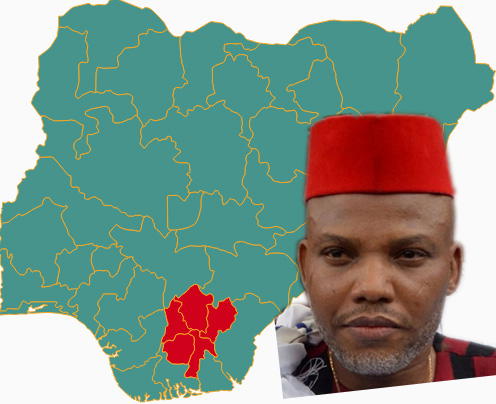 Leader of Indigenous People of Biafra, IPOB, Mazi Nnamdi Kanu
Leader of Indigenous People of Biafra, IPOB, Mazi Nnamdi Kanu
By Vincent Ujumadu
AWKA—THE Indigenous People of Biafra, IPOB, yesterday urged Ohanaeze Ndigbo and the South East governors to produce its leader, Mazi Nnamdi Kanu and his parents if they hope to achieve genuine peace and reconciliation.
It was one of the five conditions given by the Deputy IPOB leader, Mr. Uche Mefor and head of directorate of state, Mr. Chika Edoziem. Another major condition given by the pro-Biafra group was lifting of ban on the proscription of IPOB.
The statement read:  "Ohanaeze Ndigbo should lead Igbo governors in the public de-proscription of IPOB in the South East. This is because we are mindful of the fact that Ohanaeze Ndigbo and lgbo governors were the first to ban IPOB  before the Federal Government stepped in to tag all of us terrorists.
"Ohanaeze Ndigbo must prevail on the Federal Government to de-proscribe IPOB. This is an absolute prerequisite. Also, an unreserved apology must be tendered to IPOB over the complicity of lgbo governors and Ohanaeze Ndigbo in instigating 'Operation Python Dance'  that resulted in the death of hundreds of IPOB activists.
"Ohanaeze Ndigbo should also tell us the whereabouts of our leader Mazi Nnamdi Kanu, his parents, Eze I. O Kanu and Ugoeze Sally N. Kanu and they should apologize to the Afaraukwu Ibeku community for their complicity in the invasion of the palace of their traditional ruler.
"Again, the Federal Government should set up a high powered delegation to meet with IPOB High Command in Europe to negotiate terms for final status settlement. When these conditions are met, only then will IPOB be in a position to agree on modalities of how best to work closely with Ohanaeze Ndigbo leadership to achieve the ultimate goal of genuine Igbo/Bialra emancipation."
The IPOB's demands came barely four days after a meeting convened by renowned constitutional lawyer, Prof Ben Nwabueze in his Atani country home to broker peace between the Biafra agitators and Igbo leaders.
The Atani meeting was attended by the President- General of Ohanaeze, Chief Nnia Nwodo and IPOB lawyer, Mr. Aloy Ejimakor, among others.