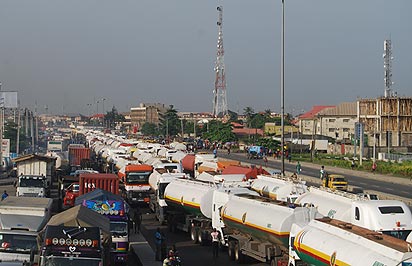 By Godwin Oritse
A total of 12 vessels out of the 29 arriving at the Pilotage District of the Lagos ports yesterday are laden with Premium Motor Spirit (PMS), otherwise known as petrol.
According to highlights of the Shipping Position obtained from the Nigerian Ports Authority, NPA, the vessels freighting these liquid cargoes include Challenge Passage, British Saefarer, Horizon Theano and Gold Paint whose agent is West Atlantic.
The four vessels sailed in with 35,000 metric tons, mt; 34,000mt, 37,000mt and 37,500mt of PMS respectively.
At the ENL terminal, Green Guatemala and Green Music arrived with fresh fish whose combined tonnage stood at 6,409mt.
Tina Theresa will dock at the Apapa Bulk Terminal (ABTL) to discharge 5,700mt of crude palm oil.
Ten vessels laden with containers are expected to discharge at the AP Moler Terminal (APMT) while at the other terminals, goods such as bulk sugar, gypsum and bulk wheat will be brought in.
Team Tango bearing 13199.53mt of bulk fertilizer; Seaspan Saigon expected at APMT with 336 FLC containers; MSK Cunene which docks at APMT with 300 FCL of containers. Others are Desert Melody expected to discharge bulk urea at ABTL.
Green Seije laden with 3458.21mt of fresh fish will berth at the ENL while Amar Glyfada will sail into GDNL with 16,500mt of bulk wheat.
Motor tankers awaiting berth include Camden, Ocean Gladiator, Zonda and Nord Olympic. Others are STI Texas, City Port Moody and Chemstar Tierra bearing assorted products such as ethanol, PMS, AGO and bulk oil.