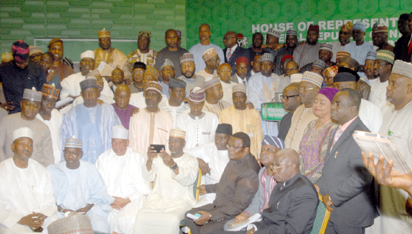 Members of the All Progressives Congress (APC) Caucus in the House of Representatives, addressing the National Assembly Press Corps shortly after the mass defection to the PDP at the National Assembly, Abuja, yesterday. Photo: Gbemiga Olamikan.
Amuwo Odofin (Lagos State) – An All Progressives Congress (APC) lawmaker in Lagos State, Mr Adedotun Adegbola, on Thursday said that politicians who defected from the party would not win in the 2019 elections.
Adegbola said on the sideline of Mrs Risikat Adegeye's declaration to contest Amuwo Odofin Federal Constituency in the 2019 elections.
He described those who left APC as frustrated opportunists.

"None of them will win their elections. None of them will win another seat. That is their last tenure. They're gone with the winds.
"It makes us stronger. The virus in the party is going out.
"Ordinarily, there may be virus in your system but the moment they start getting out of your system, you start feeling better, feeling stronger," said the Lagos lawmaker.
Another lawmaker, Mr Tunde Ajayi, told NAN that the defections were done for selfish ambitions.
"I'm not bothered; they scampered in and scampered out. So we're not bothered at all.
"If you look at them, it is for selfish reasons and because they can't achieve their selfish ambitions, that's why they're going back," he said.
Ajayi urged the people to take advantage of the ongoing voter registration exercise which would end on Aug. 17 to get their permanent voter card (PVC).
caption id="attachment_1067248″ align="aligncenter" width="300″] Cross section of participants at the event[/caption][
Speaking at the event, the leader of Olusi Market in Festac Town, Alhaja Nurat Shittu, urged women in politics to be firm in spite of many challenges they faced at home.
"Women must be firm in politics and get our rights from the men. If you don't win today, you can win tomorrow.
"As a politician, you just have to stay firm. Let's continue doing it, I know one day, we'll get there," she said.
An APC youth leader, Mr Omosona Olakunle, said he supported Adegeye because of her performance when she represented Amuwo Odofin Constituency 1 in the Lagos House of Assembly.
"She facilitated many developmental projects in the area and empowered many youths of which I am a beneficiary.
"She has empowered over 1,000 youths of Amuwo Odofin through vocational trainings like fashion design, events management and makeup," Olakunle.
Earlier, Adegeye told NAN that she was confident that she would achieve more for the constituency if elected into the House of Representatives.
"Education is very paramount to me. I plan to sustain the educational projects we have in place already.
"I also plan to have an old people's home for my constituency and help improve on healthcare," she said.
She promised to provide work tools to about 350 individuals who just completed their skills acquisition training at Amuwo Odofin Local Government (AOLG) and Oriade Local Council Development Area (LCDA). (NAN)