By Morenike Taire
In November of 2006, former schoolteacher and Anambra Deputy Governor, Dr. Virgy Etiaba became, by default, the first female Nigerian governor, a position she held for four months.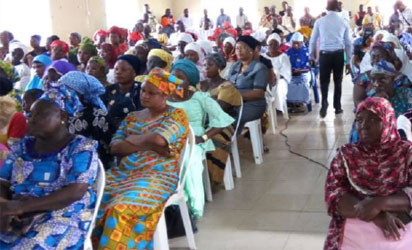 It was in the restive days of the most recent rebirth of our democracy, and shenanigans, intrigues and political killings were far more common than useful deliberations in the legislature.
Earlier, in Lagos, the cold war between the governor, Bola Ahmed Tinubu and his deputy, Kofoworola Bucknor Akerele, had boiled over and finally erupted into Nigeria losing her only female state executive at a time. This was before it then became fashionable, in a twist of irony, to replace overzealous male deputies with smiling females.
No one really paid attention until the 2015 general race, when Taraba's Aisha Al- Hassan ran the race of her life for the number one spot in her state's governance, eventually losing narrowly to Darius Ishaku by a Supreme Court ruling. Like Bucknor-Akerele who was her precursor, Al-Hassan was also a senator and had decamped to run for the governorship.
Both are consummate politicians, and distinguish themselves from the tokenists- women who are waiting to be picked to represent women. These are the kind of women to whom the future belongs, because those are the ones who can effect any kind of change.
Continuous calls for women to be allowed to take part in politics and to vie and be voted for, for leadership positions in government, have become mere noise in the total din. No one is listening anymore, because we have more tokenists in the polity than we have women who are ready to roll up their sleeves and engage their publics. The narrative is also defective, and continues to suffer the danger of being beaten down by superior, if masochistic- arguments.
It was believed at the time that successive military administrations had been responsible for the destruction of Nigeria's once almost robust economy through corrupt activities and dictatorships. This was a myth, just as it is a myth that women are better at statecraft than men. If anything, men in general are far more experienced in this very complicated endeavour.
In both cases, the realities are stranger than the myths. From 1999 up until today, the scale and extent of corrupt activities perpetrated by persons in governments and their representatives is, compared to what had obtained under the military, comparing a glass of strong gin to a cup of milk. In addition, as a result of checks and balances under the civilian administrations which occasions layers in governance, there are many more opportunities for maladministration or straight up pilfering of the commonwealth.
Over the years, the face of misappropriation has not only not been male alone, but is actually becoming more and more female. From the smart and sassy policewoman at the checkpoint, to her Customs contemporary, to the female clerk at the high court, to the woman holding a high or highly sensitive political position, women are becoming less devoted to matters of the state.