By Ayo Onikoyi
Following the success of their last single, 'Nina', singing duo, the MVZE are back with another summer anthem titled 'By Your Side', which would once again raise the music bar and keep them in the minds of many music lovers for a long time.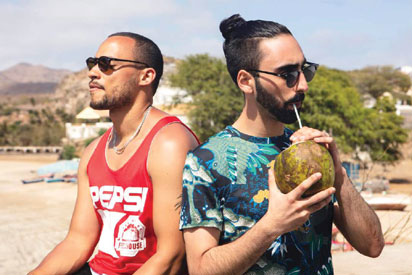 With a fusion of Nigeria's afrobeat with European sound, MVZE is fast warming their ways into the minds of Nigerians with their love for the Afrobeat sound, one which they said has become a big influence on their music pattern.
MVZE at a press briefing in Lagos State last Thursday, said their determination to break into the Nigerian music scene with the popular Afro pop sound was borne out of their love for the African music sound; one which they said has become the biggest sound coming out of the continent.
With the desire to create timeless and trendy sounds accompanied by intimate melodies filled with emotional energy, MVZE said their character gives them a twist that interestingly prevents them from falling into the trappings of sounding "already heard".
The Belgian-born singers hinted that they are ready to rock the Nigerian music scene with freshly composed music that reflects the spirit of the now and tomorrow, laced with a huge dose of African vibes.
"Our music is edgy and has a modern tropical vibe, which bridges the gap between avant-R&B, Afro & soul music with a sparkle of Pop. Our new song is laced with a huge dose of African vibes; sweating it out on stage and making sure that audiences have a good time."
Singer-songwriter Leo G Wilson and platinum producer Toscano " Teezy93" teamed up to form MYZE. The obvious chemistry and shared music influences were the ignition key to their forming a project based on their members' collective artistic experiences.