By Sam Eyoboka & Olayinka Latona
ALL roads lead to the  New Auditorium of the Redemption Camp for  the star attraction, Holy Ghost Service, of the 66th annual convention of the Redeemed Christian Church of God, RCCG, which will be attended by millions of persons from across the globe today.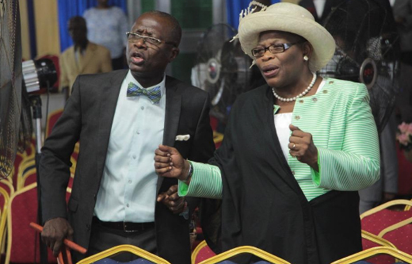 The Holy Ghost Service which is regarded as the toast of every RCCG's National programmes is seen as the grand finale of the Spiritual fiesta which attracts a huge number to the camp, will be the first programme to hold at the 3 Kilometre by 3 Kilometre Auditorium in Simawa area of Ogun State.
The church authorities are expecting people from diverse places to the camp to swell the number of people already scrambling for space to shield their heads from the harsh weather conditions often associated with this period of the year.
Following special intercessions for the nation to avert the security challenges currently plaguing the country, as well as seek God's intervention especially in line with predictions of a possible break up of Nigeria by next year, millions will troupe to the camp for the miracle service.
As at 6.00 p.m. yesterday the sprawling Redemption Camp was already swarming with men, women, boys and girls milling about every available space in both the old  and new auditorium.
Events scheduled for today include: 8.00-9.30 a.m. – Plenary Session 6 "The journey to the top." 10.00-11.30 a.m. – Bible study 5.00 -6.30 p.m. – Youth Hour 8.00 p.m. – Holy Ghost Service (Plenary Session 7 & 8) "Head and not tail" and "Dominion."
As a Special Night and as in the custom of the church, all participants are expected to fast in order to get ready for what God will do in their midst.
Those that will also be coming are reminded to come early as both Arenas will be full and some people may have to stand, just as there was an assurance that volunteers from the church in company of hundreds of security operatives from Lagos and Ogun states will be on ground to ensure free flow of traffic on the Lagos-Ibadan Expressway.
A statement from the church, yesterday urged commuters on the road and other adjoining roads from the Ikorodu end, to co-operate with the Police, Federal Road Safety Corps members, as well as other traffic managers from Ogun State.
According to the statement, everything is being done to manage the heavy influx of people to the camp, which had already started since Monday when the programme started, adding that church members should endeavor to come light by helping to convey fellow participants with a view to decongesting the camp.
"We have arranged for people to park their cars at the Old Auditorium and take shuttle buses from there to the New Arena, venue of today's event," the statement added.
Subscribe for latest Videos