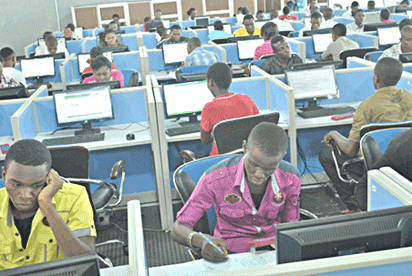 File photo of students at a JAMB CBT Centre.
By Josef Omorotionmwan
The Joint Admissions and Matriculation Board, JAMB, was established in 1978 with the mandate of ensuring a uniform standard and the conduct of matriculation examination and placement of suitable candidates into the nation's universities. The enabling law has since been amended to include all tertiary institutions in the country.
The idea of standard and uniformity was to avoid a situation in which some candidates got multiple admissions which deprived others the opportunity of gaining any admission.
Put simply, in just the same way that the Federal Government organised common entrance examinations for placement into its secondary schools, JAMB stepped in to organise entrance examinations and maintain uniform standard into all the tertiary institutions across the country.
A particular aspect of JAMB's operation has attracted intense public attention lately. Two years ago, Professor Ishaq Oloyede was appointed the Registrar of JAMB. In the 38 years of JAMB's existence before the arrival of Prof. Oloyede, only a paltry sum of N54 million operating surplus had been remitted to government coffers.
But in the two short years of Oloyede's administration, JAMB has remitted a whopping sum of N15.6 billion into the Federal Government Treasury. This may have been a direct result of the Single-Treasury-Account introduced by the President Muhammadu Buhari administration.
As soon as these figures were released, a storm of indignation burst forth, principally from the camp of Oloyede's predecessors. They quickly saw Oloyede's success story as an indictment on them. The arithmetic of simple proportion pointed to the fact that if an organisation made N15.6 billion in two years, ceteris paribus, that organisation in 38 years should make about N294.4 billion!
Ordinarily, you do not have to justify being successful; but you have to justify not being successful. Apparently, Oloyede has blown the lid off the cover of his predecessors. If only as a cover-up for their failure, these men had to push Oloyede into a deep pit from where he is currently struggling to justify his huge success – contrary to expectation!
Their first claim is that Oloyede has spent little or nothing on equipment, infrastructure and materials as well as on capital projects compared to what they did.
Prof. Oloyede counters their argument by saying that he had spent all that needed to be spent and yet there was a lefty surplus; and he did not think it was a crime to remit such surplus to government coffers.   The Oloyede administration insists that there are even some areas where it has outspent previous administrations. Hear Dr. Fabian Benjamin, JAMB's Director of Media: "The cost of writing an examination now is higher than we were doing previously because of the inclusive nature of our activities… The difference is that the Board under Oloyede is doing many things in other areas to cut cost. We brought trained staff who are now doing virtually everything that was being done outside".
One major challenge facing the Board is the issue of examination malpractice, hence the Board spent a lot of money installing CCTV in all examination centres.
Prof. Oloyede's unfair critics are perhaps unaware that under Oloyede, a lot has been done in the area of staff welfare. Dr. Benjamin explains further: "In Maitama, we have not less than 10 blocks of flats for our senior staff… we have also bought properties, not for staff, but for offices… We have bought a complete centre, well furnished in Osun State. We have also partnered NCC to build centres in many places such as Kano, Bauchi, Osun and Ogun states…."
Benjamin speaks more: "We bought vehicles with the result that at present, there is no office that has no vehicle. Before Prof. Oloyede's arrival, the capacity of the Computer-Based-Test Centres varied considerably. Each centre has since been up-graded to accommodate 275 candidates, with complete computers fully installed".
Clearly, in JAMB, money has not been the problem but how to spend it – to borrow the elegant phraseology of a former Nigerian leader during the oil boom era. We have thus far been dealing in the exclusive preserve of the Audit Department. Over the years, each successive administration has portrayed itself as a Shylock of sorts – milking and bleeding its poorest of the poor. Indeed, the Federal Government has no moral justification to be smiling all the way to the bank from the sweat of the poor citizens.
Certainly, JAMB was not established as a money-spinning machine. From our knowledge of elementary book-keeping and accounts, JAMB cannot be expected at the end of the year to prepare the Trading, Profit and Loss Account because it is trading on nothing. The profit it makes cannot be measured in terms of Naira and Kobo, but on the number of examinations it successfully conducts.
JAMB derives its revenue from the sale of forms. With its bogus charges, many poor people are priced out of the academic market. Such die without seeing the four walls of a tertiary institution. And here is JAMB declaring humongous profits, after feeding fat, thus further inflating the 'lootable' funds of the Federal Government. If this is not a crime against humanity, what is it? Something must be done and pronto too!
The forms now sell for N5,000 and $20 in Nigeria and outside Nigeria respectively. The form must crash to N2,000 immediately! Prof. Oloyede's argument that by that reduction "you will be giving it free at the international market because of the exchange rate", is unacceptable. We see nothing wrong with charging differential fees for local and international candidates. After all, a bulk of the candidates is in Nigeria and the examination is for admission into Nigerian tertiary institutions! Those who feel cheated can come to Nigeria to enroll and sit for the examination!
"Taxation without representation is a tyranny," so declared the Americans at the Boston Tea Party, which was one of the immediate causes of the American War of Independence. When are we going to start involving our youths in matters that affect them? How many students are on the Board of JAMB? These are posers for our government.