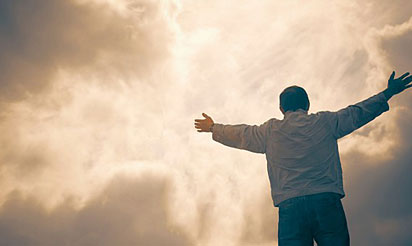 By Funmi Komolafe
Brethren, in the next few weeks, God sparing our lives, we shall be in the ember months.  At this time, if we reflect deeply on our activities within the year, many of us will realize that it is either we have attained our goals or we are yet to have them realized.
For several people, the signs indicate that   such goals may be attained. Whichever is yours, brothers and sisters, we need the help of God.
Many of these challenges can be likened to storms. You don't agree?  Let's take a look at what a storm is. It is simply defined as a violent weather condition. In this context, let's consider the turbulence we experience in the airplane.  Many of us have experienced turbulence in the plane.  It really makes us uncomfortable.  It swings the body, the way we do not want.
In the same way, challenges are similar to storms or winds.  They swing our destiny.  Challenges make us uncomfortable and may stop us for being fulfilled in life.
Since the storm is violent, how do we deal with it?   The Holy Bible rule or ruins us  guides in Matthew 11 vs. 12 " And from the days of John the Baptist until now the kingdom of heaven suffereth violence, and the violent take it by force".
So, why should you allow the storm of miscarriage to rule your life?  Why should the storm of unfulfilled relationship take control of your life?   Why must you fold your arms and continue to work like an elephant and eat like an ant?
Are you a victim of a conspiracy?   The actions of those people constitute a storm in your life. True, life is stormy but every storm can be made still.  When the storm, is still, you will enjoy your life.  Everything will come so easy for you.
Is your storm a health challenge? God can still the storm.
I may not know the storm you are going through but you are not the first to go through such  . Many have experienced such storms and they have overcome. What are you afraid of?  Why should you as a Christian be afraid of any storm?   Our Lord Jesus  also  encountered several storms but I will only refer to one.
Sure, you are aware of the sea trip of Jesus and some of his disciples. Mark 4 vs. 37 – 40 " And there arose a great storm of wind, and the waves beat into the ship, so that it was now full. And he (Jesus) was in the hinder part of the ship, asleep on a pillow: and they awake him, and say unto him, Master carest thou not that we perish?
And he arose, and rebuked the wind, and said unto the sea, Peace, be still. And the wind ceased, and there was a great calm. And he said unto them, Why are ye so fearful? How is it that ye have no faith?
Brethren,  did you realize that the disciples were uncomfortable, they were afraid, death stared them in the face  and they didn't want to die in the sea. When they went to wake our Lord Jesus who was asleep, he took action.
First, he arose.  In other words, he stood up.  He stopped sleeping.  Then with authority given to him by his father in heaven, he rebuked the wind. The Bible tells us that after he rebuked the wind, " there was a great calm".  In other words, they began to enjoy the sea ride.
Brethren, are you ready to wake up from slumber to subdue that storm in your life?  Are you still afraid like the disciples?   Jesus used the authority given by his father?   Are you using yours?
That challenge has remained long, because you failed to use the authority that God has given to you.
Luke 10 vs. 19 "  Behold, I give unto you power to tread on serpents and scorpions, and over all the power of the enemy ; and nothing shall by any means hurt you".
If the Lord has given you authority, why are you not using it?  Your failure to use it, is the reason the challenge persists.
The word of the Lord as recorded in Matthew 18 vs. 18 is unambiguous. " Verily  I say unto you, Whatsoever ye shall bind on earth shall be bound in  heaven; and whatsoever  ye shall loose on earth shall be loosed in heaven".
Assuming you have been married for years and  children have not been forth coming.Even as you take medical steps, it is your duty to speak to your body that it must produce children because God has told you to be fruitful and multiply.
Why should you remain without a partner when, God has told you that it is not good for you to be alone and promised to send you a suitable helper. Perhaps, the real problem with you is fear.  Are you afraid like the disciples in the boat with Jesus?  Brethren, if you are afraid, you cannot overcome the storm.
It was fear that stopped the disciples from using the God given authority.  Don't let fear stop you because you cannot have faith and fear at the same time.  One must overshadow the other. If you allow fear to overshadow your faith, you will not overcome.  May you not be a victim of the forces of darkness in Jesus name.
As human beings, we have low moments.  Moments when we are spiritually inactive but God has the capacity to strengthen us, physically, spiritually.
Philippians 4 vs. 13  " I can do all things through Christ which strength me". This is the assurance you have that the Lord can strengthen you, when he does, the storm will be calm those tears of sorrow will become tears of joy in Jesus name.
If Christ is in you and you are in Christ, his glory must manifest in your life.  Every storm must cease and your life will enjoy peace like a river.
We have this assurance in Colossians 1 vs. 27 " To whom God would make known what is the riches of the glory of this mystery among the Gentiles; which is Christ in you, the hope of glory".
Brethren, once the storm stills, his glory must manifest in your life.  Fear not, deepen your faith.
As usual, I will end with a testimony that I witnessed during a service at Laughter Foundation International Ministry.
A woman was about to give birth and she went to the hospital.  The doctor asked her to call her husband.  She did and the medical team called the doctor aside to tell him that she must be operated immediately.  So, he needed to give his consent.  However, they can only guarantee the safe delivery of the baby but that the mother's survival, they cannot guarantee. They told him that from their experience and what they could observe, she might not live to nurse her ba
The man asked them to allow her call the general overseer of his church; Pastor Gbenga Oso and he narrated to the Pastor what the medical team said. He then told the Pastor, I know if you pray, she will live.   The Pastor immediately began to pray.
Not long afterwards, the medical team told the man of the arrival of the baby and the survival of the mother.
The medical team burst into shouts of praises for the Almighty God. Brethren, I saw that woman, her husband and the baby girl when they gave their testimony.  The general overseer said in 21 years history of the church, it has never lost any mother or child during childbirth.   All glory be to God.
What saved her?   The intervention of Jesus.   Note how the husband was calm even when faced with the possibility of losing his wife.
Brethren, nothing is beyond redemption. God can save us from any storm.
This week, pray this prayer "Every force resisting my fruitfulness or my progress, Lord Jesus, silence them forever ".
When the forces against your progress are silenced, your testimony will manifest in Jesus name.
May God make this a fruitful week for you and your family in Jesus name.