Haroon Balogun
Al-Habibiyyah Islamic So-ciety, an organisation promoting social re-order through engagement, has partnered imams, Islamic scholars, Economic and Financial Crimes Commission, EFCC, Lagos State Government and Nigerian Union of Journalists, NUJ, Lagos Chapter on promotion of anti-corruption messages in their areas of jurisdiction for a new order.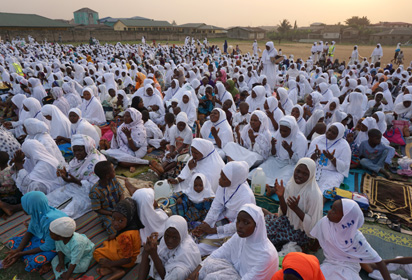 The partnership, according to the National Chief Imam and Executive Director of Encouraging Accountability and Transparency Through Faith-Based Intervention, EAT-FIn, Al-Habibiyah Society of Nigeria, Imam Fuad Adeyemi said all stakeholders must ensure that messages against corruption in Nigeria had impact on the society.
Adeyemi stated this during a sensitisation programme for Imams and scholars across the state held at Lagos State Central Mosque, CBD, Alausa, Ikeja.
"The advocacy is important as result of the followership it controls across board.
Adeyemi added that the group since inception, had fed over 1,500 people daily during the month of Ramadan.
Chairman of the occasion, Dr Abdulhakeem Abdulateef, the Commissioner for Home Affairs, Lagos State, stated that government was planning to bring religious leaders to its payroll so as to make the job  easier for them.
He added that "Imams and Pastors are believed to be men of God, so we need all of you to help us to encourage the right values in the society particularly in the area of accountability and anti-corruption.
"We must remember that the Almighty Allah will ask all of us to render account of our deeds thereafter, so the Imams and other religious clerics should lead us in the right direction because they are our leaders."
The Zonal Head, EFCC, Lagos, Umar Hadeja, who  represented the Acting Executive Chairman of the commission, Ibrahim Magu, noted that it was time we began to ask some pertinent questions: what does Islam say about corruption? What does the Quran say about the punishment that awaits any believing Muslim who engages in corrupt practices?
Hadeja  equally said that  faith-based organisations  must be seriously involved in this enlightenment campaign, considering the fact that every religion preaches against moral decadence, act of indiscipline and other vices, including corruption.
"The Enlightenment and Re-orientation Unit of the Public Affairs Directorate of the Commission has been engaging various stakeholders in the anti-corruption war. The sensitisation programmes are designed not only to enlighten the populace about the danger of corruption, but to also encourage them to take ownership of the anti-corruption fight."
He also commended the organisers for the choice of the theme of this event: Promoting Accountability, Transparency and Reducing Corrupt Practices In Our Society: An Islamic Approach.
Chairman of Lagos State Council of the Nigerian Union of Journalists, Dr Qasim Akinreti urged Islamic clerics to join the crusade to combat ills in the society especially in the area of corruption and other social vices. "The NUJ Lagos State will continue to interact with leaders of different faiths towards promoting a just society free of corrupt practices," he said. Guest lecturers at the event included Professor Kamil Koyejo Olosho, the South- West Vice-President, Al-Habibiyyah, and Head of Department, Arabic and Islamic Studies, University of Ibadan, Dr Saheed Timehin, a lecturer of Foreign Language Department of Lagos State University and others.
Al-Habibiyyah has held similar programme in northern part of Nigeria.