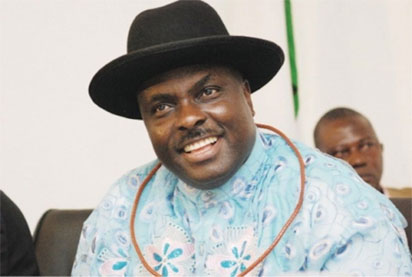 By Abel Oshevire
Chief James Onanefe Ibori, the ebullient Urhobo man who superintended over the affairs of Delta State as governor between 1999 and 2007, strides today into the sexagenarian club as he turns 60. The people's man, once described as "Apamaku 11" by then governor of Lagos State, Asiwaju Bola Tinubu, is as robust and full of life today as he was then when he was governor for eight years way back. The word "Apamuka" in Yoruba means the one that cannot be killed.
Chief Ibori was born on Monday, August 4th, 1958 in the sleepy town of Mosogar, in Ethiope West Local Government Area of Delta State to Mr. and Mrs. Ukavbe Ibori of Otefe town. He is a man of great candour, whose journey in life has been characterized by both sweet and bitter experiences. But remarkably, his ebullience never waned, even in those moments of tribulation, remaining upbeat and never crestfallen.
Chief Ibori ventured into the murky waters of politics quite early in life after graduating from the University of Benin (UNIBEN), in 1982, where he read Economics and Statistics. He journeyed into business, where fortune smiled on him quite early.
It is intriguing that in spite of his foray into politics at the age of 33 in 1991, in an environment dominated by old and experienced politicians, and not having a political godfather, Chief Ibori built an awesome and intimidating political structure that overwhelmed everyone in 1999. Even now, he has continued to determine the political calculus of Delta State.
Chief Ibori exhibited leadership qualities very early in life. According to his elder brother, Chief William Ibori, who passed on very recently (may his soul rest in peace); " I can recall that when he was growing up, he exhibited signs of greatness by the way he conducted himself; how he talked to people and his general attitude to life. He had many friends. He liked bringing people together. And I noticed that his friends also deferred to him as their leader."
Testifying further on the character and conduct of his younger brother, the elder Ibori, who was 15 years old at the time of James Ibori's birth, said: "As a child, he was very obedient, honest and respectful. I never saw anyone who complained about him or came to report him to our father over any unruly behavior or attitude. He was a quiet and jovial person right from childhood. He did not talk much and he did not indulge in making trouble."
Chief Ibori's performance in office as governor was a monumental success, characterized by massive overhaul of broken down infrastructure and all-round even development of the State. This performance was irrespective of the mountain of challenges that confronted his administration on his assumption of office, chief of which was the Warri crisis that literally shook the State to its very foundation. The crisis started more than four years before the advent of his administration, defying two military administrations. It was so ferocious that it wreaked so much havoc on the city, causing all the multinational oil companies operating there to relocate out of the town, thereby rendering the once-buoyant and vibrate economy prostrate.
Delta State of 1999 could be described as having the similitude of broken chinaware, with so much rot and decay, resulting from age-long abandonment and under development. Though rich in human and natural resources, yet it was fallow, yearning for urgent rehabilitation and transformation.
Driven a by passion and determination to reverse the many years of neglect and underdevelopment, Chief Ibori embarked on a massive and aggressive economic and infrastructural transformation to fast track the development of the state. He
resolved to restore Warri, the state's commercial centre, to its pristine glory and win back the confidence of investors, particularly the multi-national oil companies.
He was equally passionate about developing Asaba into a befitting capital of an oil-rich State. Above all, he was committed to ensuring rapid and even development of the entire State. But between him and his well-intended plans for the young state, was acute paucity of funds.
Nevertheless, Chief Ibori remained unperturbed. He forged ahead with his plans and programmes. He was resolute in his resolve to keep faith with his campaign promises to the people, notwithstanding the daunting financial challenges.
Chief Ibori's eight years governance of Delta State was without doubt a success story, one of infrastructural renewal that turned a seemingly abandoned state into a virile and prosperous one that stood out nationwide. He had no misgiving from the very onset about the kind of state he was going to leave behind at the end of his tenure as governor. He had told a reporter; "I have a very tall ambition for the State. I recognize that the target I set for myself is very, very ambitious. I have a dream to build a strong and virile state that would be the most prosperous, modern and progressive in Nigeria."
A strong advocate for resources control and the practice of true federation, Chief Ibori was detested, persecuted and prosecuted by the powers that be for his defense of the people of the Niger Delta in particular and Nigeria's down-trodden masses in general, against their continued marginalization and oppression. For his boldness and audacity in speaking the truth to those in authority, he was subjected to serious persecution, intimidation and humiliation. He escaped the gang-up by a cabal to scuttle his second term bid in 2003 through a concocted ex-convict allegation leveled against him that was thrown over-board by the Supreme Court. But his detractors and persecutors, who hated him with passion, did not relent. They connived with the British government to send him to prison over corruption charges that had been quashed by a competent court of jurisdiction in Nigeria in December, 2009.
Although they succeeded in sending him to prison in far away London, his jailers were miffed by the heroic welcome that was accorded him by his people on his return home last year. The people knew he was innocent and was only a victim of political persecution. This explains the cult followering that Chief Ibori commands, even today, not just in Delta State, but throughout the Niger Delta and even beyond.
Chief Ibori is an embodiment of joy. He radiates an irresistible and infectious aura that overwhelms even his detractors. A man with a heart of gold, full of love and good wishes for all, even his enemies, Chief Ibori bears no malice or grudge against his oppressors. He rarely gets angry and forgives easily. That is why in the face of all the political harassment and oppression, he has remained stoic, enduring his persecution with stoicism.
The former governor has a very strong character, an attribute that rattles and unnerves his antagonists.
He is a highly disciplined and principled man, the reason why he refused to yield to the lure of the cabal to abandon the struggle for resource control, true federalism and, by extension, a better Nigeria.
Several notable Nigerians who know the man, Chief James Onanefe Ibori, very well, have these to say about him.
Rt. Rev. Justus Mogekwu, Bishop of Anglican Diocese, Asaba, Delta State: "Chief Ibori is not just a bridge builder in Delta State, but he indeed, is the bridge. I wish to recall the prison experience of St. Paul, in the Bible, who gladly spoke about himself as a prisoner of Christ. He gave out instructions from prison and of particular interest about the prison experience of St. Paul, was the fact that he was  more powerful in prison than he was outside the prison. I saw a similarity between the experience of St. Paul and what I will call the experience of Chief James Onanefe Ibori. In prison he was powerful. We thank God that in all his experiences, he has been able to discover the purpose for which God has put him where He has put him. The greatest tragedy that can befall any man is that you are here as a human being and yet, you do not know why God has put you where He has put you. This man Ibori, knows where God has put him and he is fulfilling that purpose to the glory of the name of the Lord. "
Comrade Adams Oshiomhole; "I stand here to affirm the statement made by Macaulay (Ovuozourie) that when we needed men from the Niger Delta to stand up and be counted in the struggle for resource control, then I was President of the Nigeria Labour Congress, NLC, only very few made themselves available. James Ibori was one of the very few and he spoke with courage. The only other governor I can remember at that time that was not afraid of Abuja because of the lion that was there was Governor Victor Attah of Akwa Ibom State… So, looking at the gathering here and hearing the people's remarks and applause, I can say categorically that 'Ibori, many Nigerians truly appreciate you.' So, I congratulate you for retaining your army of supporters, even after several years of being out of the country."
HRM Efeizomor II, Obi of Owa: "If you look at why the African has not been his brother's keeper, it is reflected in what we now have in the Niger Delta. Where is Isaac Adaka Boro? What did Adaka Boro fight for? What did Ken Saro-Wiwa fight for? They fought for resource control. A number of those persons who are within the enclave of Niger Delta who fought for resource control, under one terminology or the other, have been subjected to one form of victimization or the other. What Ibori has is that he did not die, because if he had died, just at the time  also that those people died, he would have died like a criminal. It follows that this pattern of elimination by intimidation, elimination by substitution, elimination by tactical destruction, elimination by all sorts of vices have not helped the African political process. And if you go through, call it the abandoned or suspended debate on the national conference, True Federalism, has always been the kernel. It has remained the italicised force. If you want to look at the angle of Ibori, not looking at the money that was alleged to had been taken because if you now look at the strata of development, you will find that if you take away what Ibori did, for instance in Delta State, then Delta State remains a primitive society, a very backward society. If a man who made that kind of investment is now suffocated and stratified and, above all that, humiliated, you kill the spirit of not only those who are coming in but even people lose hope and respect, interest and trust in matters of the State."
Prof Amos Agbe Utuama, former deputy governor of Delta State, 2007-2015: "Chief James Onanefe Ibori is a gentleman. He has earned my respect as a rare leader of men. A man of strong admirable qualities of humility, determination, generosity and the social capacity to relate to the high and low in the society. For these enviable qualities, Ibori has been subject of conflicting love and hate. Those who love him, do so without reservation. On the contrary, his haters wish him dead.
"The Ibori I know is very generous. He is a man who would want to relieve anybody who is known to him of structural anxiety. He is humane and concerned about the welfare of people. As a governor, the welfare of every Deltan was the corner piece of his administration. He was particularly concerned with the poor state of road network in the State which he inherited from the military administration.
"He was also bothered that Deltans in the riverine areas were virtually cut off from civilization and determined to change the status quo, he embarked upon improving the road network in the State and the construction of what was dubbed the 'Unity bridges,' to connect the riverine parts of Delta with the land mass. This was the inspiration that brought about the Omadino Bridge, the Bomadi Bridge, the Ase Bridge and the Olomu Bridge. It is also on record that he was the first in the country to extend public light to any Ijaw community in Nigeria. He also built mini Stadia across the State thus, using sports as a means of engaging the youths of the State… As for the ex-convict case and the London case, they were very sad and most unfortunate. Ibori is not a criminal; he has never been a criminal and he will never be a criminal. He is just a victim of political persecution."
Senator Ighoyota Amori, former commissioner and current Special Adviser to the National Chairman of PDP. "Before talking about Chief James Onanefe Ibori, first, let me thank God for his life; that he is very much alive today. Some of the people who bore false witnesses against him that led to his incarceration, have every cause to be sorry for their actions. Some of them are not even alive today; others have phased out from both the national and political scenes. And many of them are already regretting the ignoble roles they played in the persecution of Chief James Ibori, a man who God used to provide for many Deltans and also greatly transform the landscape that is today known as Delta State.
"For the man we generally call the "Man with the big heart", his ordeal can be likened to the Biblical Jesus; he brought light to many people, but was persecuted and jailed for sins that he did not commit. Certainly, that is a challenge, a sacrifice he made for the liberation of his people. Ibori was generally acceptable to several people across the country, particularly on the political scene, till he started the crusade on resource control. He and the late DSP Alamieyeseigha began the
struggle for the people of Niger Delta for the control of our resources.
"When he saw the injustice, when he saw the marginalization of the people of Niger Delta, he decided to initiate this struggle for the control of our resources. And the powers that be then, our big brothers, who later turned our big enemies, felt that the man was trying to lead and liberate his people and decided to plan against him. In government, those who were leading the country then, decided to persecute him for his struggle for resource control.
"It is necessary to state for the records that since the existence of the State; from Southern Protectotate to Southern Nigeria, to Nigeria, to Western region, to Midwest region, to Bendel State and now, Delta State, the people had never witnessed the kind of infrastructural transformation the Ibori government brought about. It was overwhelming and it showed that government could literally do magic if it so desired."
Mr. Lulu Enabaifo, age-long friend and confidant: "I know James Ibori before 1999. He had a nickname while we were growing up. We called him 'Endless,' because somehow, when everybody else has gone to the bottom of where they are, either financially or in ideas or in thoughts, James always came up with something new. So, he was never at any point in time as a person ever short of anything. I have never known James Ibori not to have money. I have never known James Ibori to run short of ideas. I have never known him to run short of thoughts.
"In 1998 when General Abdulsalam Abubakar was head of State, and the PDP transition was on, Chief Tony Anenih called me; maybe they thought James was too young to be the PDP flag bearer. He said I should go and talk to James that they would look for another job for him to do; either make him the Head of Nigeria Ports Authority or NIMASA. So, excitedly, I went to meet James and told him that
Chief Anenih 'say make you no run.' And James said to me that Chief Anenih cannot tell me not to run because he is not the one that would decide whether I would run or not.
"What I will ask you, Lulu, is that you, as my friend, are you going to be with me or you will be with Chief Anenih? This was the summer of 1998. He then said he would prove to me that he has his own money to run. And that he would run without a godfather. So, he called his bankers at the then Standard Trust Bank I think, and Citizens Bank. And they brought his statements of account, which he showed me in foreign currency. It was in the domiciliary account. I don't want to mention figures. It was a phenomenal amount of money. And he said, I will gamble with this one. If I lose it, the money can go.
"But you decide whether you want to listen to Chief Anenih or you want to follow me. I said lets be together, and that's how we started the journey to where he is today. So, he has a gift of being able to lead.
"In terms of what he did as governor, James' government is the first State government to have built successfully, navigational bridges, in Nigeria. All the other navigational bridges in Nigeria were built by the Federal Government and he didn't build just one. He built the one to Aboh, the one to Bomadi, he finished the Omadino Bridge. He had about four or five bridges that he built then".
Hon. Abel Oshevire, was Senior Special Assistant on Media and Publicity to Governor James Onanefe Ibori, from 1999-2007. He was also a member of the Delta State House of Assembly, 2007-2011.