..why Osinbajo spared IGP, Ibrahim Idris
Soni Daniel, Northern Region Editor
Details of how the deposed Director General of the Department of State Services, Lawal Daura, plotted and executed the invasion of the National Assembly on Tuesday, thereby effectively stalling the emergency meeting of the lawmakers, have emerged.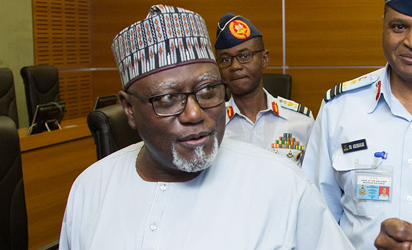 The lawmakers were to consider the about N228 billion budget submitted by Independent National Electoral Commission for the 2019 general elections and other critical spending approvals for the country during the aborted emergency sitting.
Vanguard learnt exclusively that the sacked DSS boss, who hails from the same town with President Muhammadu Buhari, deployed no fewer than 100 heavily armed DSS operatives to cordon off the National Assembly premises a few hours to the meeting.
Our correspondent also gathered that to make the operations full-proof, Daura handed the 100-strong team over to the command of a senior operative, an assistant director, to lead the operation.
It was learnt that most of the operatives, who were drawn from their locations at 1am on Tuesday, did not know why they were hurriedly relocated, where they were being deployed to and for what purpose until they arrived the precincts of the imposing National Assembly complex in the wee hours.
A top source told Vanguard that although embattled Daura had informed the Inspector General of Police, Ibrahim Idris, of the plan to effect massive deployment of DSS operatives to lay siege to the NASS, and actually pleaded with him to support the operation with his men, the police chief declined to contribute additional policemen for the the 'operation'.
"What the IGP told Daura was that he had enough police officers and men currently manning the NASS and did not need to deploy more personnel there," the top official confirmed to Vanguard on Tuesday.
"That was the explanation, which the IGP also tendered to the Acting President, Yemi Osinbajo, who summoned both Daura and Idris to the Villa to explain their roles in the siege on the NASS," the source added.
"The acting President was convinced that the IGP did not mobilize his men to the legislature and that was why he was not sacked along with the DG DSS," the source explained.
Subscribe for latest Videos