By Ikechukwu Amaechi
When Aso Rock accused former President Olusegun Obasanjo of masterminding the illegal ouster of five governors when he was in office, many Nigerians felt the Villa had a point.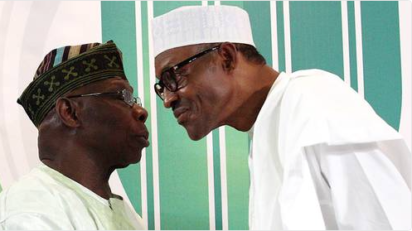 When it came to human rights and the rule of law, the Obasanjo era was the quintessential years the locusts ravaged. That era represented the dark days of Nigeria's democracy with a slew of assaults on the Constitution.
In a statement on May 27, 2018, Presidential Spokesman, Garba Shehu, accused Obasanjo of deploying federal machinery to remove Governors Joshua Dariye (Plateau), Rashidi Ladoja (Oyo), Peter Obi (Anambra), Chris Ngige (Anambra) and Ayo Fayose (Ekiti) from office.
"When they ran the government at the centre, the opposition PDP showed aptitude in only one thing: the toppling of elected state governments using the police and secret service under their control," Shehu said. "A five-man legislature met at 6:00 a.m. and 'impeached' Governor Dariye in Plateau; 18 members out of 32 removed Governor Ladoja of Oyo from office; in Anambra, APGA's Governor Obi was equally impeached at 5:00 a.m. by members who did not meet the two-thirds required by the Constitution …."
Impeached for saying no to corruption
Obi's impeachment was particularly absurd. For a government touting a war against corruption as a mantra, Obi was impeached for saying an emphatic no to corruption.
Anambra lawmakers were ferreted to Asaba, capital of neighbouring Delta State, where they met with government's foot-soldiers and were given mouth-watering inducements. On the D-day, they were accompanied to Awka by heavy security provided by the Police Mobile Unit and Obi was thrown out of Anambra Government House until the courts came to his rescue.
Shehu said that era was gone for good.
"Thank God for Buhari, none of these absurdities has happened under his watch but the PDP is indicating their boredom with his meticulous observance of the Constitution by calling for a return to the old order."
That was two months ago.
But it reminded President Muhammadu Buhari – now in a rat race to catch up with all the alleged ills of the 16 years the Peoples Democratic Party, PDP, ruled –  that he is lagging behind. On July 30, under Buhari's watch, eight lawmakers out of the 30 in the Benue State House of Assembly, aided by hundreds of policemen and officers of the DSS armed to the teeth, took control of the premises of the Assembly. Their mission? To impeach Benue State Governor Samuel Ortom. His offence? Having the audacity to leave the All Progressives Congress, APC, for the PDP in the run up to the 2019 election, which, for Buhari – as it was for Obasanjo in 2003 – has become a do-or-die affair.
And as usual, our Teflon President has washed his "saintly" hands off the shenanigan. "Even while attending the ECOWAS/ECCAS Summit in Togo, strident attempts were being made to drag President Muhammadu Buhari into the unfolding drama between the executive and the legislature in Benue State," wrote Femi Adesina, his Media Adviser, on Tuesday.
"Statements have been issued by different interest groups, insinuating that the president may have a hand in the development in Benue. This is paranoia at its worst, coming from people who have wittingly positioned themselves against the clean-up of the country, and the way we do things. They prefer business as usual.
"President Muhammadu Buhari has dissociated himself from any role in the plot by minority lawmakers in Benue State to remove Governor Samuel Ortom.
"President Buhari will never be part of any unconstitutional act, and any attempt to link him with the inglorious past, when minority number of lawmakers impeached governors, will not stick …."
Insulting, as it has become characteristic, those asking Buhari to rein in the police and the DSS, Adesina said: "When it suits them, they preach separation of powers and true federalism, and in another breath, they call on the president to interfere brazenly in affairs at state level.
"President Buhari will always stand by all that is noble and fair, and will reject attempts to drag him into infamy.
"People who stoke fires by deliberate acts of omission or commission, and then summon the president to come and put it out, will find that this president will be guided by the Constitution at all times, no matter the attempt to entangle him in unwarranted controversies."
This statement and its incoherent logic are as interesting as they are incredulous.
Absurd drama in Benue unconstitutional, immoral and unfair
So, Buhari knows that the absurd drama in Benue is unconstitutional, immoral and unfair; but would rather do nothing about it so that he wouldn't be seen to be interfering "brazenly in affairs at state level?"
Buhari wants Ortom to stew in his own juice because he stoked the fire threatening to consume him "by deliberate acts of omission or commission?"
Adesina uses Buhari's participation at the ECOWAS/ECCAS Summit in Togo as an alibi as if he didn't know that Obasanjo was not in the country when he engineered the kidnap of Ngige from office in Awka. Does Buhari stop being the President and Commander-in-Chief of Nigeria's Armed Forces whenever he is outside the country? Of course, these egregious rationalisations fly in the face of truth, just as the will of one man flies in the face of democracy, which promotes the will of the majority. Why would Buhari always play the ostrich, burying his head in the sand, deluding himself that nobody is seeing the rest of his body?
He has not brought to Nigeria's democracy table anything refreshingly different from what Obasanjo offered. Almost two decades after, our democracy ought to be cruising, having gained comfortable and unassailable altitude since 1999. The hypocrisy of the APC government rankles as Buhari, the archetypal Nigerian politician, continues to live in denial.
Unbridled arrogance of power and contempt
There is absolutely nothing transcendental about his leadership. Unbridled arrogance of power and contempt for due process and the rule of law cannot be ingredients of a transformation carte du jour.
Shenanigans like the Benue show of shame only help in deconstructing the Buhari myth, which spin doctors have laboured so hard to build over the years.
He is the architect of the macabre dance in Benue. To claim otherwise is to continue hiding behind his finger.
His cronies want a proof. Why would he, they ask.
My response is why wouldn't he? In their effort to secure a second term for Buhari, his promoters have become so desperate and frustrated that they have thrown caution to the wind.
Constitutionally, eight members in a House of Assembly with 30 members cannot impeach a governor in Nigeria. The idea is not only thoughtless and irresponsible but insane.
But those pushing it want to use it as a dry run for the forceful takeover of the leadership of the National Assembly, NASS and scare away any governor that may decide to go the Ortom way.
But that harebrained strategy has failed already. Those who want to quit the APC will do so regardless.
More importantly, Nigerians may have finally realised the folly in pulling Generals out of retirement and handing them the keys to the seat of power for claiming to be converts to democracy without verifiable evidence of democratic reflex.
There is more to being a democrat than holding a ballot paper and participating in elections.
Ikechukwu Amaechi is the MD/Editor-in-Chief, TheNiche on Sunday newspaper, Ikeja, Lagos.