By Festus Ahon
ASABA—A former Peoples Democratic Party, PDP Youth Leader in Delta State, Mr Andrew Igban, yesterday said Deltans are happy with the performance of Dr Ifeanyi Okowa as Governor, insisting that the people are determined to vote for him enmass for another tenure in the 2019 general elections.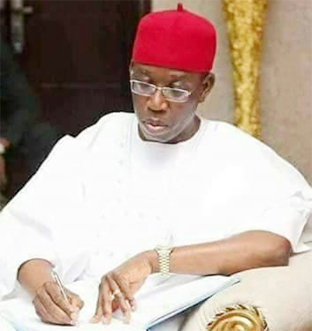 Igban stated that the people understand that the best way to appreciate the Governor for the good works is to support him to victory to consolidate on the remarkable achievements of his administration.
Speaking during a rally organized by Delta Political Vanguard, DPV, in Patani in continuation of the statewide mobilization for the second term bid of Governor Ifeanyi Okowa, the frontline aspirant to Warri South West Constituency seat in the Delta State House of Assembly, said: "Even those in opposition APC can attest to the good works of Okowa as Governor of Delta State but for politics of bitterness.
"You can feel the bitterness and unrelenting efforts of the opposition leaders to blackmail and misinform the public on the performance of Okowa as governor in the past three years. But despite the blackmails, distortion and misinformation by the haters of the government, the popularity of the administration is increasing by the day. Okowa's good works are speaking for the party."