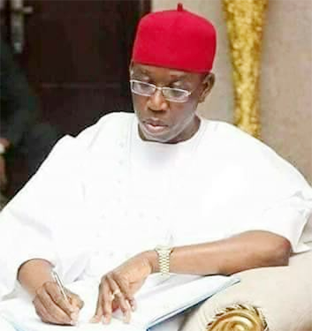 Okowa
Delta Economic Summit Group (DESG) has created a platform called EcoVine which, among other things, contain  a global list of indigenes and provides credible information about social and economic activities in the state.  "EcoVine is open to Deltan professionals around the world; providing members with valuable social and economic information and networking opportunities. The platform gives Deltans an opportunity to become affiliate members of DESG at no cost", the Group said.
"Ants are successful creatures; because they know very well that the mind of the team is superior to the mind of the individual", Ese Onosode, Chairman of DESG said.
Once EcoVine is launched,    DESG will publish informative content for the benefit of all Deltans through digital media and traditional platforms. ecoVine will be a reliable platform for accessing social and economic information on Delta State.
DESG is a private sector led think tank established in 2015 to promote socio-economic development in Delta State. It is a non-partisan, not for profit organization of professionals of Deltan origin.
The Executives of the Group include:    Director General, Chukwuka Monye, an alumnus of University of Oxford and Managing Partner of Ciuci Consulting, a leading management consulting firm with a regional office in Delta State, and Deputy Director General,    Brian Hammond, , an alumnus of Imperial College, UK and a financial expert and agripreneur with a 3,500-hectare oil palm plantation in Delta State.
Others are Isioma Udeozo, Treasurer, expert in business development, establishing and managing strategic alliances and partnerships, and Hamilton Esi, Public Relations Officer, a corporate communications expert who currently serves as the Vice President for LEKOIL's corporate communications function.