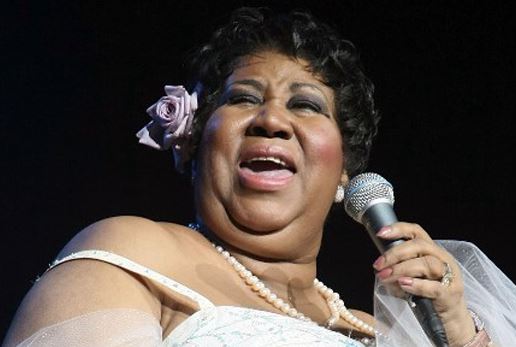 Queen Of Soul' Aretha Frankiln
Aretha Franklin, the music legend, icon and Grammy-winning singer celebrated as the "Queen of Soul," died at her home in Detroit on Thursday, her longtime publicist announced. She was 76.
Franklin — who influenced generations of female singers with unforgettable hits including "Respect" (1967), "Natural Woman" (1968) and "I Say a Little Prayer" (1968) — passed away at 9:50 am (1350 GMT) at her home in Detroit from advanced pancreatic cancer, surrounded by family and loved ones.
She cemented her place in American music history with her powerful, bell-clear voice that stretched over four octaves. In her decades-long career, her hits spanned the genres, from soul to R&B, gospel and pop.
"It is with deep and profound sadness that we announce the passing of Aretha Louise Franklin, the Queen of Soul," her family said in a statement issued by her publicist.
"In one of the darkest moments of our lives, we are not able to find the appropriate words to express the pain in our heart," the statement said.
"We have lost the matriarch and rock of our family. The love she had for her children, grandchildren, nieces, nephews, and cousins knew no bounds."
She was the first woman to be inducted into the Rock and Roll Hall of Fame in 1987. In 2010, Rolling Stone magazine put her at the top of its list of the 100 greatest singers of all time, male or female.
The 18-time Grammy award winner inspired myriad singers during her five-decade career from pop diva Mariah Carey and the late Whitney Houston, to Alicia Keys, Beyonce, Mary J. Blige and the late Amy Winehouse.
She was the first woman inducted into the Rock and Roll Hall of Fame, and sang at the inaugurations of two presidents — Bill Clinton and Barack Obama.
Franklin's declining health was first disclosed on the Showbiz 411 website late Sunday by Roger Friedman, a reporter and family friend. He wrote that she was "gravely ill in Detroit. The family is asking for prayers and privacy."
The Detroit News later reported that she was in hospice care, as artists from across the musical spectrum offered well wishes to the legendary singer who lived in Detroit — the Motor City, home of Motown — most of her life.
Franklin — who was widely known by only her first name, in true diva style — rose from singing gospel in her father's church to regularly topping rhythm and blues and pop charts in the 1960s and 1970s.
Beyond "Respect," her powerful cover of the Otis Redding tune that became her calling card, Franklin had dozens of Top 40 singles, according to the Rock and Roll Hall of Fame.
Other hits include "Day Dreaming" (1972), "Jump to It" (1982), "Freeway of Love" (1985), and "A Rose Is Still A Rose" (1998). A 1986 duet with George Michael, "I Knew You Were Waiting (For Me)," hit number one in several countries.