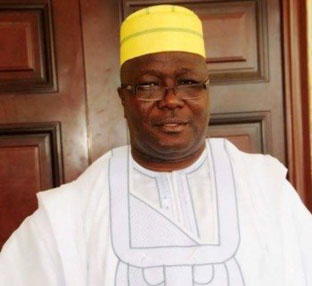 Askia Ogie
By Charles Kumolu
This report is not just the tale of Chief Askia Ogie 's journey to relevance, but an instructive read for anyone who is concerned about giving back to  society. Ogie, an accomplished entrepreneur and  currently the Executive Director of Finance, Delta State Oil Mineral Producing Areas Development Commission, DESOPADEC, is living the biblical injunction  of Luke 12:48 which says "To whom much is given, much will be required."
Origin
Our society has given me so much. Anyone who hears my story will understand why I have embraced philanthropy.  I'm from a  humble background and I practically had to pry myself from the shackles of poverty. I knew I had to survive and also make a difference in life. The mindset made me relocate to Lagos from Delta State and  without knowing what the move held for me. I was lucky to meet some good people, who assisted me in settling down. I worked briefly at the Nigerian Television Authority, NTA. From there, I went to the banking sector with my school certificate result. While in the bank, I  studied for my Associate Chartered Institute of Bankers, ACIB,certification.
From the main banking, I went into unit banking which is now known as microfinance banking. I worked in virtually every department and this honed my skills. When I finally left banking, I went back to school, because many people don't understand banking qualifications like ACIB. I had to enhance my qualifications by studying Banking and Finance.  I also worked at Mandara in Jos under the late President Umar Yar'Adua and  got involved in a few businesses in the private sector that are yielding good returns.
Raising a family early
I started raising a family early so that I could concentrate on my steps to relevance. Another reason was my background which was not interesting.  I was not born into opulence at all. I promised  that  education which  was very difficult for me to acquire, I must give it to  my children. Today, I am proud that all of them are graduates and they are doing well in their fields of endeavour. I later went into politics.  In all these, I received the acceptance of  society. I have received assistance from people all along. My major break in life came from a man, who was a National Youth Service Corps member in my village school, Uzere Grammar School in the then Bendel State.He taught me Government. When I came looking for a job in Lagos, someone gave me a note to  Mr. Shofoluwe at NTA. He was a Senior Administrative Officer in charge of appointments and promotions.
Acceptance of  society
When I entered his office, the man I saw was  Mr. Olarewaju, who I knew in my village school. Since I was born and brought up in Yorubaland, I was close to him when he was serving in my village. I was the best student in Government, so, we bonded naturally. I was just like his housekeeper because I  washed  his clothes and dishes. Sometimes, I slept in his house.  The moment he saw me, we simultaneously shouted our names as we embraced. I told him  I was supposed to see one Mr. Shofoluwe but I was  surprised to see him sitting on Shofoluwe's seat. He said  he's Mr. Shofoluwe. When I asked why his name became Shofoluwe, he said it was a long story.
He was to interview me for the job, but said that there was no need for the interview, adding that he knew all he would have asked me about . That was how I started working at NTA. That element of luck has followed me till date. At that time, I  already applied to work in a bank. I left that job for the banking sector and the transition was easy. Of course, I suffered as a young man, but I found myself always lucky when I started working. A lot of my colleagues, who stayed back in the village  at the time,  didn't grow beyond  village life. It was mainly, because they didn't have my kind of courage to leave the village.  I came to the city, I was accepted by  society and I made  a fortune.
I feel  the kind of things  society gave me, others across the country should also benefit from and that's why I'm committed to philanthropy. I am not looking back. Someone,  not related to me, a Yoruba man, gave me my first break in life and .  fate reunited us in Lagos. That shows that even in diversity we can be brothers and we can achieve. My title, Bashorun  was given to me in Yorubaland and  I have nine other titles.
Working all my life
Society is not as bad as people see it. People also need to do something so that our  society will embrace them.They should develop themselves and be of good character so that  society will embrace them. Lately, the quest for money has made many people lose interest in working ironically. I have been working all my life. I didn't just become who I am just like that. It was a long process. I still have much to achieve, but I'm concerned about helping  others, because I was helped beyond measures. Nobody should be written off. Everybody has potentials that should be developed to make society  better.
Bashorun Askia Foundation
Bashorun, my traditional title  was given to me in Oye Ekiti and it's synonymous with everything about me. I'm known more with that title than my real name, Askia. I have many titles in my kingdom. I have always been interested in impacting  society, beacuse it has given me much. I'm  determined to  improve the living standard of  people around me and that  motivated the establishment of BashorunAskia Foundation. It is mainly philanthropic but focused  on  skills acquisition. I have been doing this in various ways for  years.  Now,my focus is  the education sector because  standard of education has fallen in Nigeria but education is vital to the development of this nation. There is a need to bridge that gap. I will be devoting most of my time to the development of  teaching of Mathematics in secondary schools.
Children are gradually drifting from the study of Mathematics which they  think is  difficult. I suspect that the mode of teaching the subject, instructional materials or myths about the subject could be responsible for this. I am coming up with a show that will appeal to youths and rouse their interest in Mathematics. The aim is to make them see the subject as something they can easily embrace like other subjects.  To achieve this, we are focusing on their Intelligent Quotient, IQ, and we have produced a programme dubbed BIQ Show which  will test the IQ of  students in a competitive and interesting manner. If we allow the growing apathy towards mathematics, it will get to a point where no students are interested in mathematics and   society will suffer , because innovations will be lacking.
Why mathematics?
Mathematics is the bedrock of every innovation. Everything revolves around mathematics. I've discovered   youths are spending more time on leisure.  They  prefer arts  and it's affecting us as a nation to the extent that we are not serious about development.That's why we can't manufacture simple things  we can produce. Basic  Mathematics is needed for  development.  A lot of  parents and guardians would not invest in what I am doing because it would consume money than produce money. But I'm not thinking of that, because I want to give to  society that has given me so much. I'm  doing this for  the younger generation and I'll start from  Delta State. The project will focus on  basic Mathematics by determining how fast participants can think, memorise, add  and subtract figures.  In  the pilot edition, the winner was a female student we  pleaded with to participate who  didn't like mathematics. Her success kindled her interest in the subject.
Hitherto,she never believed  she could do well in Mathematics because of the myth surrounding it. We are targeting students who are not interested in the subject  but not  to the detriment of other areas of philanthropy.  I have sponsored many people to skill acquisition centres. After their training, we gave them starter packs to start their own businesses and  so many people will be gainfully engaged in the process. Today, we bring people from Togo and other African countries to do some jobs that Nigerians can do but do not  because our people prefer white collar jobs. By the time our people are trained in those areas they are avoiding, I am sure they can grow to become the middle class that is disappearing today.  We will soon commence other episodes of  BIQ Show and we'll bring together 16 schools that will compete. We'll engage a coach  to teach them. About 110 students will be  competing and finalists would be given scholarships.
Opportunities we offer
It has been a wonderful experience doing that and  a near 100 percent success story. I think it's because we spend time on screening  participants. It's not an all comers affair. We seek people looking for  opportunities we offer. The tendency  of people selling their empowerment packages doesn't happen in our programmes.  That's why I want  government to ensure that the right persons are always chosen for empowerment programmes.