By Olumide Lawal
People's Democratic Party (PDP), as a party of yesterday, today and tomorrow, conducts its affairs with absolute decorum and uniqueness. It therefore in a hotly contested primary elected as its standard flag-bearer for Osun 2018 Governorship Race, a dynamic and resourceful Senator Ademola Adeleke who is set to take Osun out of economic woods and give her citizens, real value for their lives.
The July 21, 2018 party primary contest left no victor nor vanquished. All contestants were winners. Senator Ademola Adeleke has therefore sent out the signals, that his candidacy is for all the good people of Osun, with a view to solving her multi-faceted problems, using the state's endowed abundant human and natural resources, to make Osun our joint heritage and first among other states, where justice, peace and progress reign supreme.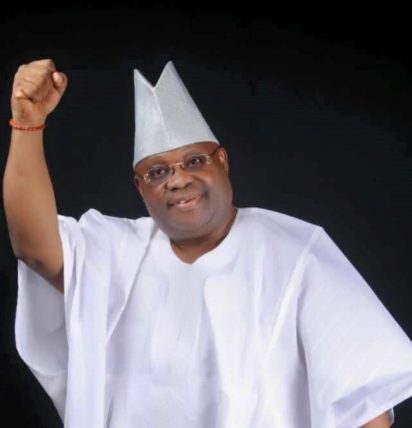 Ademola Adeleke is not new to politics. He has sterling antecedents, that stands him in good stead. He believes in selfless service, transparency and accountability in the conduct of government affairs. In his sojourn in the Senate so far, he has ensured robust contributions to legislative duties, touching essentially on religious harmony, security of lives and properties, because he had a strong conviction, that religion of whatever persuasion is an avenue to be a good human being, as against what fundamentalists would want the public to believe. Like his name NURUDEEN, he brings light to politicking and public service.
Senator Ademola Adeleke is a principled politician, whose modesty and candour cannot be waved aside. Though misunderstood unjustly in a few circles and fora, for reasons not applicable to him, he bears nobody any guidge. And for us in Osun State, we should give Ademola Adeleke all of our votes, with a view to demonstrating our resolve to move Osun, many miles ahead of others.
The PDP family in Osun should be commended for their magnanimity and spirit of sportmanship in ensuring, that they have all resolved to work together amicably to win the September 22, 2018 governorship election and be part of an epoch-making event of returning PDP to power in Osun State. Senator Ademola Adeleke is just the flag-bearer, the eminent members of PDP, no matter their status are the contestants, and the electorate in Osun their solid pillars of support.
Over to the good people of  Osun State to do it right and set the ball rolling for the march to BOLA IGE HOUSE from September 22, 2018 with door to door campaign. Ademola Adeleke project is our collective project. It is God's own project. Osun State needs economic overhaul to make life more abundant for our people. Osun people are resilient and long distance runners. And God is their strength. Ademola Adeleke together with other politicians  in all political divides are set to breathe a fresh air into our lives as from September 22, 2018, when by God's grace, he would have emerged as the next Governor of Osun State.
Despite man-made obstacles to give a dog a bad name in order to hang it, Ademola's governorship project continues to gain wider acceptability from cross-sections of the electorate in Osun State. The support base for his victory at the gubernatorial election is on the high side. The campaign structure of Senator Ademola Adeleke is all embracing and leaves nobody out in the onward march to September 22 duel. Osun electorate are determined to give the mantle of leadership to Ademola Adeleke to play out what Isiaka Adeleke would have done as their governor and take their destines in their own hands and firmly too. The task ahead though gargantuan, is surmountable, since the programmes of Ademola Adeleke is welfarist in nature and people-oriented.
The PDP family in Osun State are very confident of victory, since unity permeates their rank and file as they rest their hope and trust in God Almighty, to fight for them like biblical David against Goliath. This is complemented by the glowing love and affection, Osun people across tribe, creed, colour, religion or sex have shown the party and Senator Ademola Adeleke so far. This no doubt, has elevated the resolve of well-meaning people of Osun State to go to the September Poll and cast their votes without fear or favour and record a 22 Local Governments win for PDP. We counsel for peaceful conduct on the part of the politicians and voter, before, during and after the election.
The PDP flag-bearer in Osun State, Ademola Adeleke, is a modest politician. He goes about his endeavours with humility. He is above board and beyond reproach. Nobody should live in illusion, that Ademola Adeleke is not a master of the game, having under-studied his late brother-Senator Isiaka Adetunji Adeleke political prowess and mastered it well.
Ademola Adeleke, a QUINTESSENTIAL OMOLUABI, is ready to identify with those living below the poverty line and give them succor through participatory governance in its totality.
He is a remarkable personality in his own right, who will not hurt a fly. He is focused on his aspiration and sure-footed of a rancor-free election. An election, where the umpires will be unbiased, but play according to the electoral rules. A fantastically level-playing ground for all candidates.
The likes of Mathama Gandhl, Abraham Lincoln, Chief Obafemi Awolowo, Nelson Mandela passed through some political baptism of fire in their quest to serve their people when it mattered most and came out successful. So shall it be for Senator Ademola Adeleke in his on-going efforts to serve Osun State meritoriously.
Senator Ademola Adeleke will perform the same feat, come September 22, 2018, as a politician not given to frivolous expressions and politics of bitterness. He is for all. All are for him. Osun People yearn for Ademola Adeleke. Between him and the Osun people, it is a bond that he will not forsake. He has a date with history. A bond, that will see Osun State returning to the enviable path of greatness and consolidation of the gains of the present.
Osun where basic infrastructure, shall be greatly improved upon and taken for granted. That hour is inching closer for us all to give Ademola Adeleke the opportunity to give his best to us. We cannot afford to miss the golden chance offered us by September 22, 2018 governorship election, to elect a servant of the people, in person of Ademola Adeleke. A governor, that will make the welfare of civil servants and pensioners, the centre-piece of his administration. A situation, that will in turn make the economy of Osun very buoyant. For his administration, it is full and steady payment of salaries and pension as and when due.
All leaders of men, whether political figures; all of those who can get the best out of others, have identified themselves with high ideals, and this has given added scope and strength to their influence. Followed in their lifetime, because they stand for greatness of mind, rather than self interest, are later remembered for the usefulness of what they have achieved for the glory of humanity. And for Senator Ademola Adeleke, it shall be a goal, scored in a grandstyle, with the grace of God and inflincing support of the electorate. To Ademola Adeleke, the July 21, 2012 governorship primary is: a complete PDP family affairs. It is a divinely ordained project to which the good people of Osun are firmly committed. His campaign slogan is life more abundant to all. Peace and prosperity to Osun State.
Political activities, moreso in electioneering time are never devoid of acrimony or blackmail-justly and unjustly. Again it is the price to pay for leadership. Ademola Adeleke takes it all with dignified calmness and robust faith in God.
And the impression being created in some quarters, that his administration is going to be a family-controlled one is far from the truth. Those in the nuclear and extended Adeleke family have their different vocations and business callings, that they are seriously committed to. Therefore, Ademola Adeleke would-be government has nothing absolutely to do with family interference, but the involvement of all and sundry in Osun State, no matter the party affiliation, religion or creed. A PDP government, that assures of full rehabilitation and construction of roads across Osun State, the completion of the on-going water rehabilitation in Ijesaland; full payment of Osun shares in LAUTECH and ensuring Osun State University and other tertiary institutions in Osun State are master pieces of citadel of learning, while Osogbo will continue to be accorded top priority to make it, one of the best state capitals in Nigeria, with classy infrastructural facilities.
God of heaven stood by Abraham, he became father of many nations. He stood by Joseph, he had his dream fulfilled in spite of all the difficulties he went through. He stood by Moses, Pharaoh was defeated. He stood by Daniel, lions became his friends. He stood by David, Goliath was killed Almighty God will stand by Ademola Adeleke and ease his concerns and subdue all obstacles on his way to Osun State Government House as its next governor.
Lawal is resident in Ede, Osun State.